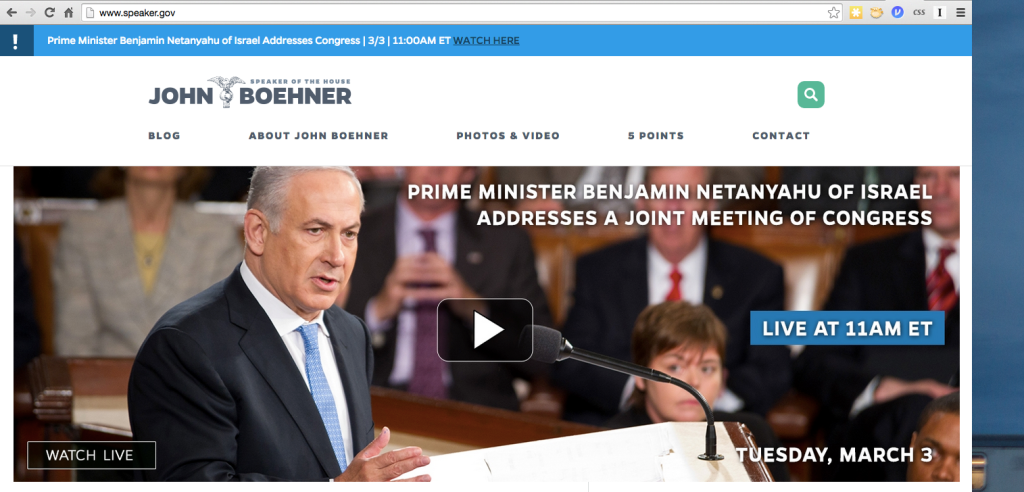 Later this morning, at 11 AM, Israeli prime minister Benjamin Netanyahu will make his much-ballyhooed speech before a joint session of Congress (minus a few dozen members). It will contain the same platitudes and hyperbolic warnings — "I am leaving for Washington on a fateful, even historic, mission," he said, with characteristic understatement — that have been his staple for two decades. (Yes, two decades!) People will clap numerous times. They will stand, sit, and then stand again in a spectacle that would put your average Catholic mass to shame. Bored DC residents (but I repeat myself) are lining up to ask for tickets.
But something is different this time around: namely, Bibi — who is in the midst of a reelection campaign — has managed to anger President Obama more than usual by accepting an uncoordinated invitation from House Speaker John Boehner, which in turn upset a lot of congressional Democrats.
The rhetorical phrase of the moment seems to be "politicizing the special relationship," which is a euphemism for "pissing off Democrats:"
Enter Jeffrey Goldberg, Netanyahu's-staunchest-critic-except-when-he's-in-fact-underhandedly-needling-Obama:
Netanyahu is engaging in behavior that is without precedent: He is apparently so desperate to stay in office that he has let the Republicans weaponize his country in their struggle against a Democratic president they despise. Boehner seeks to do damage to Obama, and he has turned Netanyahu into an ally in this cause. It's not entirely clear here who is being played.
Therein lies the crux of the issue. It is actually easy to see, with increasing clarity, just who is getting played here, and it is neither Boehner nor Netanyahu: it's the American public, for being told time and again that, above all, the "special relationship" is at stake and must be protected at all costs. Worse yet, we have to bear these same costs in the form of dead American soldiers, widespread anti-Americanism, and increased insecurity.
And for what? Since when, in the arena of international relations, do permanent "special relationships" even make sense? "America doesn't have friends. America only has interests," Henry Kissinger once said. But to this rule Israel is a glaring exception: unlike the American relationship with virtually every other country in the world, the American-Israeli bond is "unbreakable" a priori — its logic depends on nothing. And it is self-perpetuating: the "unbreakable bond" must remain as such because it has always been so: "Israel has always been a bipartisan issue." (This is, of course, as true as "We've always been at war with Eastasia.")
Look at the American relationship with China over the past several decades — or with Egypt, or Iran, or even India. These relationships have all seen ebbs and flows, summits and nadirs, depending on mutually expressed interests. By contrast, the Israeli-American relationship, while enduring the occasional bump, including this one — slight hiccups that, in the absence of a genuine rift, nearly always manage to generate a greater media stir than they warrant — has held remarkably steady even as the two nations' strategic interests drift ever farther apart.
And yet, in view of these contradictions, what we seem to hear most from political analysts is a collective handwringing over the relationship's "deterioration," not recognition of its longtime illogicality in the first place.
Goldberg is so torn up over Bibi's clash with Obama that he wrote a Q&A in which he played both the Q and the A himself.
Jeremy Ben-Ami, the head of J Street, warned: "What you're going to see is a very, very deep disagreement over policy by an American government led by President Obama and an Israeli government for now led by Netanyahu…[which is] only going to get worse if an agreement is struck with Iran, and then you're in a very serious clash between the two countries."
A liberal rabbi, John Rosove, got downright Gladwellian: "It's a tipping-point moment. It's no longer the Israeli government, right or wrong. The highest form of patriotism and loyalty is to criticize from a place of love."
Rep. Lee Zeldin (R-NY), the sole Jewish member of Congress, said of Netanyahu's speech: "It is an opportunity to let not just the Israeli prime minister know, but the Israeli people know, that America is united in strengthening our relationship with Israel."
Perhaps strangest of all was the statement by aptly-named Rep. Steve Israel (D-NY), who noted: "When you separate Israel from the policies of its government, it complicates the matter for Congress." Indeed it does. But whether Netanyahu loses his premiership on March 17th or not, American interests will continue to differ meaningfully from Israel's. In other words, it is about the state, not just the current government.
For example, Iran poses a much-reduced threat — in any meaningful conception of the term — to the United States in comparison to its effect, however exaggerated, on Israel's security. ISIS cannot possibly hope to directly threaten American territory in the same way it can worry Israeli citizens. The radicalization of Arab opposition movements poses a greater immediate concern to Israel than it does to the United States. And so on.
Stranger still, the peak alarmism we seem to be reaching now in the upper echelons of the Israeli-American diplomatic clique is entirely contradicted by all available evidence. The U.S. has, for example, placed crippling sanctions on Iran. It's bombed ISIS. It continues to bankroll billions of dollars of military aid to Israel each year. Just yesterday, while Netanyahu was at AIPAC sowing panic over a potential Iran deal, U.S. Secretary of State John Kerry was at the UN's Human Rights Council, asking its members to end their "obsession with Israel."
All this is to say: after watching Benjamin Netanyahu and his Likudnik allies cry wolf, engage in warmongering, and inject themselves into American politics in the past couple decades, we're learning the wrong lesson when we lament the "politicization" of the special relationship. It's possible this may be just the gift horse we need.