If Congress doesn't get its act together and pass legislation to avoid the 5% across-the-board cuts to the federal budget (aka the "sequester"), the higher education world will suffer through even more painful rounds of budget cuts. The Chronicle of Higher Education has this story covered:
"Thousands of researchers will lose their jobs, thousands of students will lose their financial aid, and thousands of unemployed workers will be turned away from college work-force programs."
At a time when it seems like having a college degree is necessary for even the lowest-level jobs, these are troubling developments indeed:
"Though Pell Grants would be exempt from the sequester this year, Federal Work Study and Supplemental Educational Opportunity Grants would not. Arne Duncan, the secretary of education, has told lawmakers his department will make 33,000 fewer work-study awards and 71,000 fewer supplemental grants next year if the cuts take effect."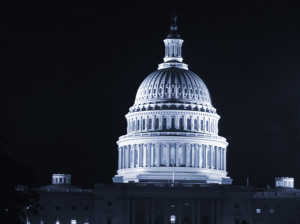 Besides this whole fiasco with the sequester though, Congress has some other higher ed-related legislative business to take care of in 2013: The Higher Education Act of 1965 is up for reauthorization. Judging by the sluggish pace at which the last reauthorization was passed (the 2003 reauthorization finally got passed…in 2008), we might be seeing the 2013 HEA reauthorization get pushed back for a while.
Let's imagine, though, that the 113th Congress will actually do its job and reauthorize the HEA on time (ok, sorry, I didn't mean to make you laugh there). But before it does, there are a few ideas Congress needs to hear first about overhauling the federal student financial aid system.
It could start with what I would consider "low-hanging fruit":
Simplifying the Free Application for Federal Student Aid (FAFSA) even more. It's much improved since I first filled one out in 2006, but it's still a monstrosity to fill out — and if you're a first-generation college student, it probably looks like another language to you. Here's one option: implement what Candidate Obama proposed in 2008 and add a little check box to your 1040 tax returns that says, "I want to be considered for financial aid."Boom. Done. Wouldn't that save us all a whole bunch of time? I like this idea, but the challenge with this is that there'd have to be a lot of work done to make sure the IRS and Department of Education (which oversees the FAFSA) are on the same page. Our archaic systems may not be able to manage it yet, but this needs to happen!
Requiring all colleges and universities to use a standard financial aid award letter that spells out exactly what scholarships, grants, and loans they're offering you. A contextual scenario: you ever get a financial aid award letter that has some nice-sounding name like "University Excellence Award" that ends up actually being an institutional loan? Even if you haven't, let's make sure this awful scheming doesn't happen to anyone.The Higher Education Opportunity Act of 2008 (the 2008 reauthorization of an amended HEA) actually laid the groundwork for a standardized letter, which was presented as a voluntary option for colleges and universities. How about making it mandatory in order for your institution to receive any federal financial aid?
Allowing private scholarships to replace loans, work-study, AND your Estimated Family Contribution (EFC) before replacing any scholarships and grants up to the Cost of Attendance.

 This is getting pretty deep into the weeds now, but it's an important issue that I've seen affect many of the students with whom I've worked.

Currently, most colleges and universities use any private scholarships you report (and you must report them all, they say) to replace any loans, work-study, grants, and scholarships offered to you (in that order) before they allow you to use scholarships to cover your EFC. For most students, the EFC is usually an unreasonable number for which they end up having to borrow (usually through private loans) in order to cover unless their family or personal network has the cash to offer. So isn't the incentive to apply for private scholarships to help cover those costs?

According to current policies, though, getting that scholarship or two that you thought would help ease the burden of your EFC might be all for naught, since it might just cancel out whatever financial aid you got in the first place — unless you get a bajillion scholarships and are able to replace ALL of your financial aid award first. Only then can any of your private scholarship funding help cover your EFC. This change is needed to have a more student-focused policy.
I feel comfortable saying that these three recs actually make up the "little stuff" based on all the recent recommendations I've seen for overhauling federal student aid (the Gates Foundation funded a big initiative that produced 16 reports on innovative financial aid ideas to consider). But, now let's talk about two major — and likely controversial — changes from those reports that I find most important for ensuring that a college education in the United States remains a real, attainable option for all students.
Establish the Pell Grant program as a true entitlement program. When Senator Claiborne Pell drafted legislation to create the program in 1972, his hope was that it would enable countless more students, who would otherwise be unable to afford higher education, to actually access and go to college. But, as tuition increases and shrinking state support of higher education has made college even more expensive, the Pell Grant, although still tremendously helpful, has lost its previous impact. The capriciousness of federal budget appropriations for program funding makes it tough for students and institutions alike.The New America Foundation's report has some of the best recommendations, in my opinion, on how to truly support the Pell Grant program and make it the entitlement program its supporters have long desired and the students served truly deserve. The path to doing this would involve consolidating a few existing grant programs and tax credits to shore up Pell Grant program funding and ensure its long-term sustainability for the students who need financial aid the most. Sequester be damned. This is a no brainer.

Consolidating existing student aid programs into a federal-state matching grant might help curb tuition increases.
[Photo via Washington Huskies Athletics FB Page]

Combine existing non-Pell financial aid programs into federal-state matching grant that provides a) guarantee of full college funding for low-income students and b) no-interest loans for middle-income students.

 Since state appropriations have the largest impact on the cost of tuition for local institutions, a federal-state matching grant could be used to incentive greater state investment in higher education in exchange for increased financial aid AND buy-in from institutions to maintain tuition under a certain cap. This idea, in much more eloquent and thorough fashion though, comes from 

The Education Trust's report

 funded through the Gates Foundation initiative.

Based on 2009 data, financial aid guru Mark Kantrowitz found

 that low-income students finish college within six years at a 45% graduation rate when financial aid covers less than 1/4 of their college costs, but that rate jumps to 68% when 3/4 of their college costs are covered by financial aid. It would be logical for that rate to go up even more if low-income students had 100% of their college costs funded. Likewise, for middle-income students, the promise of no-interest loans and income-based repayment would make the process of persisting through and graduating from college into the job market an easier transition as well. So, by consolidating existing programs into a targeted program for low-income and middle-income students, these changes could go a long way to ensuring greater college completion with the promise of adequate college funding.
With the sequester looming over any action we might see from Congress though, these recommendations probably are longshots at best to make the next HEA reauthorization. But I believe these are steps we must critically consider if we want to ensure college access and affordability for all students.
To close, I'd like to shift gears ever so slightly: Part of my motivation for looking at ways to make financial aid easier to understand is that the complexity of the current system puts too many qualified, underrepresented students at a tremendous disadvantage. If you're a bright, young, low-income, first-generation student who is eager to go to college, the path to college should NOT be a labyrinthian challenge. These are the real reasons why I do what I do. Because if we want our world-class system of higher education to be a truly world-class system that is accessible, affordable, and attainable for all, we have a lot more work to do.
Full disclosure: I wrote a policy memo on some of these very issues for my ed policy class this week, which is what inspired this post. But rather than simply copy and paste what I wrote, I thought it might be more interesting to break things down a bit — and discuss some other aspects I couldn't fit into my assignment. If you're interested in reading the actual memo though, you can check it out here (as well as below):
I didn't support my first recommendation well enough, so I need to go back and rewrite that section. Nevertheless, do share any feedback you might have on it. You can email me directly at sam@scholarshipjunkies.com or send me a tweet at @samsonxlim.