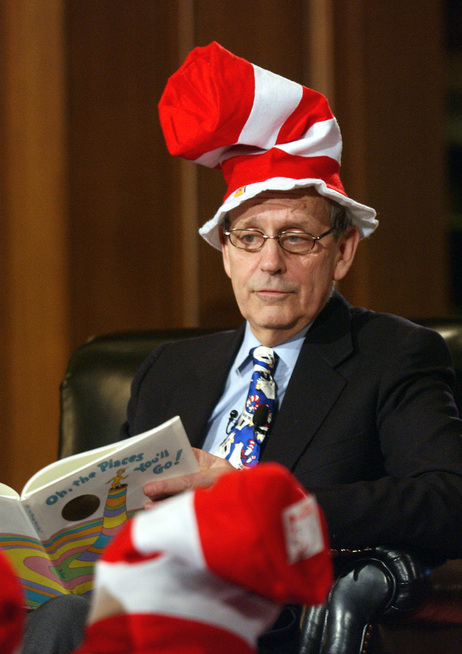 Whenever you hear about a piece of bad news befalling a Supreme Court justice, eight times out of ten it's going to be about Justice Stephen Breyer. The 74-year-old has been the victim of quite a few strokes of bad luck since stepping into the public eye, including a 1993 accident in which he was struck by a car while biking in Boston and suffered a punctured lung and several broken ribs, a 2011 fall off his bicycle that resulted in a broken collarbone, and not one but two home robberies in 2012 (one of which involved a machete-wielding stranger). On Saturday, the Supreme Court issued a press release stating that Justice Breyer had been involved in yet another bicycle spill, this time fracturing his right shoulder and necessitating surgery. Breyer is currently recuperating at a Georgetown hospital and is expected to be released early next week.
Perhaps partially because of his unlucky streak1 and partially because of the "lull" in Supreme Court news this weekend–oral arguments for this term just wrapped up on Wednesday and the press corps is still anxiously awaiting the Court's opinions for affirmative action and same-sex marriage–Justice Breyer's accident has received rather heavy coverage in the media. With all of his bike mishaps, I'm a little surprised that someone hasn't already set up a Kickstarter campaign for getting the man a Segway. Given Breyer's reputation as the Court's most cheerful and optimistic justice, though, and the fact that his previous falls don't seem to have stopped him, I'm sure Washington, D.C. residents will be seeing him zipping around on his bike again in no time. The jury's still out, however, on just how long it will take before Justice Antonin Scalia–his long-time sparring partner and the sarcastic, temperamental yang to Breyer's eager, sanguine yin–teases his colleague in public about this.
Post Revisions:
This post has not been revised since publication.
On the bright side, it hasn't been all bad news for Justice Breyer this month, as the francophile was recently inducted into France's ultra-exclusive Académie des Sciences Morales et Politiques. [↩]