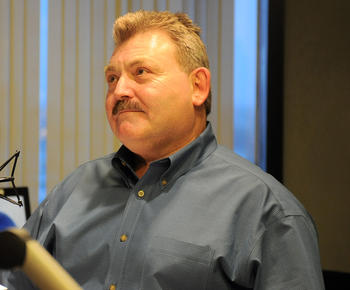 He was a Boston icon, yes. But Glenn Ordway was also such a vulgar, uncreative radio personality for so many years that his eventual termination is all the more embarrassing for its tardiness. Perhaps Ordway's most enduring legacy is bringing Rush Limbaugh-esque sensibilities to Boston sports talk radio, and for that I say: don't let the door hit you on the way out.
The fall is a stunning one for Ordway even by the volatile standards of the radio business. He was the ringleader of the "The Big Show," which featured him moderating a rotating cast of co-hosts, and the show was a tremendous ratings success through the late '90s and well into the last decade.

Ordway signed a five-year contract worth a reported $1 million per year in January 2009, but there were out-clauses if certain ratings benchmarks weren't met.

The launch of the CBS Radio-owned 98.5 The Sports Hub in August 2009 almost immediately revealed that there was room for two potent, strong-signaled sports radio stations in the market. It's afternoon drive program, hosted by Michael Felger and Tony Massorotti, has consistently had stellar ratings the past couple of years.

The competition cut into Ordway's audience — and in a sense, his salary. In September 2011, Entercom, WEEI's parent company, cut his salary in half after the program failed to finish among the top three stations in the Boston market for a particular demographic in a specific number of consecutive Arbitron books.
"You're going to hear nothing negative about anybody here," said Ordway. "If you're looking for that, you're not going to find it here."

On why he wasn't expressing more of his disappointment publicly, Ordway said, "I was there on Day One. I was a big part of starting all this, so I'm really fond of it."
Took him thirty years to find the high road, but glad to hear he's briefly discovered it.
Related articles