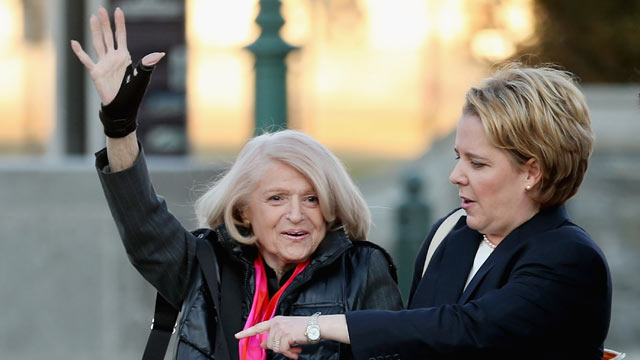 Edith Windsor, the 83-year-old plaintiff challenging the Defense of Marriage Act, arrives at Court with attorney Roberta Kaplan. Picture by Chip Somodevilla/Getty Images, found via ABC News.
Justice Anthony Kennedy had a choice to make this morning. In deciding the fate of the Defense of Marriage Act, should he go with a theory of federalism that emphasizes respect for states' rights, or a wider-ranging theory of equality that might result in heightened legal protections for gays and lesbians across the United States?
Kennedy picked the former route and clung tightly to it today in a 110-minute oral argument for United States v. Windsor that put the swing Justice on firmer jurisprudential ground than yesterday's Proposition 8 case. While the facts of Hollingsworth v. Perry pitted states' rights and equal protection for gays directly against one another, leaving Kennedy confused as to which of a variety of unpalatable options he should choose, the legal issues in the Windsor case presented no such conflict. Rather, the state's voters and the law's challengers aligned in Windsor, where they merely asked the federal government to respect nine states' decisions to recognize same-sex marriages. Here, the principles of federalism and equal protection both point to the unconstitutionality of DOMA.
Assuming that the Court doesn't decide the case based on standing grounds, Justice Kennedy seemed perfectly content on Wednesday to limit any eventual ruling to the first question about states' rights. He repeatedly reminded Paul Clement–the attorney tasked by the House of Representatives to argue in support of DOMA, since the Obama administration refused to defend it–that the right to define marriage (and the rest of family law) is "the essence of the State police power." Kennedy also expressed concern over the sheer number of federal benefits provided based on marital status–1,100 and counting–noting that this means "the Federal government is intertwined with the citizens' day-to-day life," interfering with the state's traditional "prerogative."
Despite earlier rulings on gay rights cases that indicated a willingness to extend heightened judicial protections to gays and lesbians under the Fourteenth Amendment–an equality-based argument that would have far greater reach and be far more potent against discriminatory laws than a states' rights takedown of DOMA–Kennedy appeared very hesitant to reconsider equal protection principles today (an issue on which he had also shown confusion at the Proposition 8 discussion yesterday). Several times during the oral argument, a fellow Justice or attorney would bring up Fourteenth Amendment considerations, and Kennedy would immediately steer them back to the federalism issues.
Sensing that its crucial fifth vote was reluctant to revisit arguments about equality, the liberal wing of the Court was happy to run with Kennedy's line of thinking and echoed many of his concerns in follow-up questions. (One of the many perks of being a swing justice must be getting to set the tone for the oral argument and watching the rest of your colleagues follow along.) Justice Sotomayor asserted that the states, and not the federal government, control the institution of marriage, Kagan made reference to "historic State prerogatives," and Ginsburg reiterated Kennedy's sentiment that DOMA touches "every aspect of life" in a "pervasive" manner.
Kennedy's hesitation notwithstanding, Justice Kagan in particular seemed intent on exploring heightened legal protection for gays and exposing DOMA as outdated legislation impermissibly based on animus. At one point, she dismantled Paul Clement's arguments about legitimate government purposes for DOMA–he'd insisted that the federal government passed the law for purposes of uniformity across the states–by reading to him the 1996 House Report that clearly states that DOMA sprang from "moral disapproval" of homosexuality. While this rationale was once constitutional, basing discriminatory laws on disapproval toward a particular group has since been prohibited in 2003's Lawrence v. Texas, the majority opinion for which was authored by–you guessed it–Anthony Kennedy himself. Clement was forced to backpedal and say that while some legislators may have had "improper motives" for DOMA, not all 84 of the Senators who voted for the law bore animus toward gays and lesbians.
Just as the liberal justices tailored their questions toward Kennedy's views, the conservative Justices, led by Chief Justice John Roberts and Justice Scalia, tried to assuage Kennedy's concerns by pressing Solicitor General Donald Verrilli, Jr. and Edie Windsor's lawyer, Roberta Kaplan, on states' rights. Roberts repeatedly asked both parties if there was truly a federalism problem–a bit of a trap for Verrilli in particular, who as the representative of the United States federal government has no interest in ceding too much power to the states–and became audibly annoyed whenever Kaplan or Verrilli attempted to tie their answers to an equal protection argument. While Roberts and Scalia tried to compel the DOMA challengers to say that federal overreach was not really an issue here, Justice Alito brought up the practical point that a DOMA defeat would mean that gay couples could be treated differently whenever they moved across state lines–and therefore, that the equal protection problem is ultimately unavoidable.
Of course, Justice Alito is spot on here. Regardless of how Anthony Kennedy decides to decide this case, marriage equality is spreading throughout the United States, and the Supreme Court will eventually have to decide what level of judicial protection gays and lesbians deserve. As the swing vote firmly in control of the wheel, however, Kennedy has the luxury of slowing down the train if he wants to, and it looks like he's going to do just that in the name of federalism. It won't be as big of a step as many had hoped for, but come June we will likely be one tiny step closer to a more perfect union.