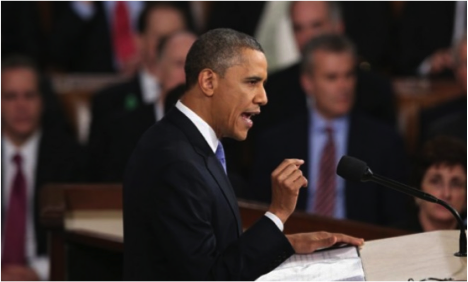 President Obama has been busy in the last few days rousing thousands of early childhood practitioners and advocates with his call for high-quality pre-k for all low- and moderate-income families. The administration has clarified parts of the plan, which have answered some questions and opened some new ones. The proposal is the biggest push for early childhood services since Head Start in the 1960s, a federally funded pre-k program to serve low-income families.
The plan, which I will henceforth refer to as "Obama-garten" (you're welcome), proposes a four-pronged approach to supporting the development of young children through the expansion of high-quality pre-k access, full-day kindergarten, Early Head Start for infants to 3-year-olds, and a home visiting initiative. Many are pleased that the plan involves the under-three crowd, which is often neglected in U.S. policy. The details of the "new federal-state partnership" to expand high-quality pre-k to children up to 200% of the poverty line and incentivize states to "broaden participation in their public preschool program for additional middle-class families" have yet to be fully explained, but my guess is that some pretty tasty looking carrots will be dangled in front of states in order for them to participate. And participate they should. In fact, a handful of states, both red and blue, have already pledged some kind of commitment to supporting young children and their families in the last few months, signaling increased readiness to beef-up their early childhood services.
Several elements of the plan need to be pulled apart and further explained to get a sense of whether the plan is feasible.
Quality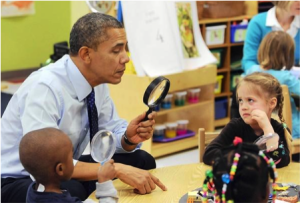 Commendably, Obama-garten makes "high-quality" a caveat of its plan. It requires states to address teacher pay, which is directly linked to retention, a stable workforce, and well-trained teachers, and has shown positive effects on quality and children's positive achievement.[1] Other elements of quality that are mentioned include comprehensive health and related services, small class sizes with low adult to child ratios, and a plan to collect and assess data. Calling for these widespread services that address the development of the whole-child are a step in the right direction for the executive office, whose previous occupant naively tried to push for a focus on literacy alone. Although teachers often get a little antsy when talk of measurement and data collection on young children surfaces, we can rejoice that the whole-child is considered in the plan, rather than a narrow focus on academic components.
Obama's claim that there's a $7 return for every $1 invested in early childhood services is based on sound longitudinal research, touted most prominently by the economist James Heckman. Although it's true that these studies have shown that pre-k can offer $4-10 returns for every dollar invested in quality early childhood programs,[2] this fully hinges on the quality of services that children receive (Heckman's recent corroboration). The cost-benefit analyses draws from data collected from some pretty high-quality programs (the Perry Preschool Program, the Abedectarian Project, and the Chicago Child-Parent Centers): teachers were well-trained and qualified, comprehensive services were offered to children and their families, and parents were provided with opportunities for involvement. If the public hopes to see any return on its investment, the government must ensure that programs meet the quality benchmarks that are outlined in the plan.
Unfortunately, there is a significant drawback to relying on the market-based approach for justifying this policy. The three most widely cited studies in cost-benefit analyses all focused on specific populations. As a huge advocate for increased pre-k quality and provision, it pains me to add this caveat, but applying these results to a nationwide cost-benefit analysis is a stretch. I'm not saying there won't be any fiscal returns, I just don't want people to get their hearts set on us being seven times richer 40 years from now, and then wondering what went wrong. Let's take a little trip down memory lane: In the 1960s, Head Start was initially sold to the public, in part, as a way to eradicate mental retardation of those living in poverty and improve individual IQs by like, a billion points, which obviously wasn't really going to happen. Then when the Westinghouse Report came out and didn't show those results, everyone was really disappointed, and the program was almost cut. Although a high return on investment is super sexy, policymakers and EC advocates need to be realistic and supplement the market-based justification with other persuasive points: children have the inherent right to be in an environment that supports their social/emotional, cognitive, and motor development, and whether that's in the home or in a center, we need to help families help their children.
Early Childhood Infrastructure
Requiring states to have these elements of quality in place is reminiscent of the Early Learning Challenge, which, unlike Obama-garten, focused not so much on creating additional slots, but compelled states to build the best, most efficient system for managing early childhood services by creating a governance structure to regulate programmatic standards, learner outcomes, professional development and qualifications for teachers, public support, and yes, more places for children. Only a handful of states already have comprehensive systems that address the infrastructure needed to create sustainable and efficient early childhood services. Those without the supportive infrastructure have a loosely organized spattering of services, which are sometime held to only minimal safety standards, with no way to assure quality and scale-up provision. Although states would be compelled to create a system for managing all of the requirements under the Obama-garten plan, it doesn't suggest that any of these federal funds would be earmarked for systems-building, which is what states need in order to participate. It's dubious to assume that states that haven't already done so would be willing and able to set up these complex systems without federal funds allocated for that purpose, and I'm disappointed that this isn't a distinct element of the plan.
The Price Tag
Finally, perhaps the biggest question on everyone's mind is the "cash-money sitch." Obama-garten makes some bold and accurate claims about the need for high-quality programs in order to ensure success. High-quality early childhood services come with a price tag to match, and the government will need to front the money if it wants to see generous returns. Currently, about $9 billion dollars is spent annually between the states and the federal government on early childhood programs. Lisa Guernsey at The New America Foundation estimates that an additional $10-15 billion dollars is needed per year in order to make Obama-garten work. In a similar plan outlined by The Center for American Progress, the federal investment in the next 10 years would be $98.4 billion over existing spending, and that's if states matched the investment. President Obama's next step needs to be lay out a feasible plan for financing this proposal that will garner the bipartisan support needed in order to make it a reality for the thousands of children waiting for pre-k slots around the country. And it'll have to be pretty compelling given the threat of sequestration looming over policymakers' heads and the compromises that will ensue.
The plan will work, but only if it's funded correctly. Quality early childhood care and education allow more parents to participate in the workforce while their children gain the skills and experiences that will provide for their well-being and future success. It supports the mental and physical wellbeing of children, and provides for the wide range of unique rights that young children possess. Later, more kids will graduate from high school, and more will obtain higher degrees. Crime rates will dwindle. Teen pregnancy will lessen, and incomes will rise. It's not perfect, but it's a good plan and a sound investment for both economic payoff and social change.
Lauren Meyer is a master's degree candidate in education policy at Columbia University's Teachers College, with a concentration in early childhood education.
---
[1] Kagan, S.L., Kauerz, K., & Tarrant, K. (2008). Early care and education teaching workforce at the fulcrum: An agenda for reform. New York: Teachers College Press.
[2] Heckman, J.J., Grunewald, R., & Reynolds, A.J. (2006). The dollars and cents of investing early: Cost-benefit analysis in early care and education. Zero to Three 26(6), 10-17.