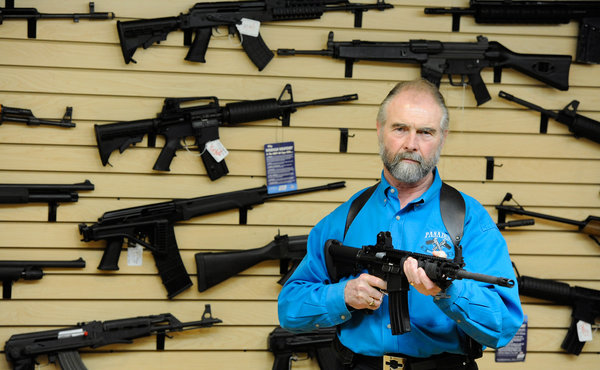 Yesterday, The New York Times reported on a national trend of declining gun ownership:
The rate has dropped in cities large and small, in suburbs and rural areas and in all regions of the country. It has fallen among households with children, and among those without. It has declined for households that say they are very happy, and for those that say they are not. It is down among churchgoers and those who never sit in pews.

The household gun ownership rate has fallen from an average of 50 percent in the 1970s to 49 percent in the 1980s, 43 percent in the 1990s and 35 percent in the 2000s, according to the survey data, analyzed by The New York Times.
The story, reported by Sabrina Tavernise and Robert Gebeloff, noted the data's seeming contradiction to prevailing media narratives:
The findings contrast with the impression left by a flurry of news reports about people rushing to buy guns and clearing shop shelves of assault rifles after the massacre last year at an elementary school in Newtown, Conn.

"There are all these claims that gun ownership is going through the roof," said Daniel Webster, the director of the Johns Hopkins Center for Gun Policy and Research. "But I suspect the increase in gun sales has been limited mostly to current gun owners. The most reputable surveys show a decline over time in the share of households with guns."
The Times should know a thing or two about the impression left by that "flurry of news reports:" it contributed substantially to creating it. Here is an excerpt from a New York Times article on December 21st of last year, headlined "Shop Owners Report Rise in Firearm Sales as Buyers Fear Possible New Laws:"
With gun-control legislation getting more serious discussion than it has in years, gun sales are spiking as enthusiasts stock up in advance of possible restrictions.

Gun sales have been increasing over the past five years, with marked increases around the 2008 and 2012 elections, and after mass shootings like the one in Aurora, Colo., and now in Newtown, Conn…

There is increasing demands for guns in the United States. Last year, the Federal Bureau of Investigation conducted 16.45 million background checks for firearm sales through the National Instant Criminal Background Check System, a 14 percent jump from the previous year. In the first 11 months of this year, the bureau conducted 16.8 million background checks, a record since the system's founding in 1998.
The article goes on to check in on various online and brick-and-mortar gun shops, all of whom dutifully trumpet the massive demand at their stores. (Imagine that: a gun shop owner who's just been given an enormous audience by a global newspaper declares that he is doing brisk business? I don't know about you, but sounds like an "I'll take him at his word" situation to me.)
But that wasn't all. Just three weeks later, the Times was back with another contribution to the "flurry," this time with the headline "Sales of Guns Soar in U.S. as Nation Weighs Tougher Limits:"
As Washington focuses on what Vice President Joseph R. Biden Jr. will propose next week to curb gun violence, gun and ammunition sales are spiking in the rest of the country as people rush to expand their arsenals in advance of any restrictions that might be imposed…

Gun dealers and buyers alike said that the rapid growth in gun sales — which began climbing significantly after President Obama's re-election and soared after the Dec. 14 shooting at a school in Newtown, Conn., prompted him to call for new gun laws — shows little sign of abating.

December set a record for the criminal background checks performed before many gun purchases, a strong indication of a big increase in sales, according to an analysis of federal data by the National Shooting Sports Foundation, a gun industry trade group. Adjusting the federal data to try to weed out background checks that were unrelated to firearms sales, the group reported that 2.2 million background checks were performed last month, an increase of 58.6 percent over the same period in 2011. Some gun dealers said in interviews that they had never seen such demand.
And finally, another three weeks and a day later, on February 2nd of this year, the Times struck again, heralding "The Most Wanted Gun in America," the Bushmaster AR-15:
Before Newtown, the rifles sold for about $1,100, on average. Now some retailers charge twice that. At Pasadena Pawn, on the wall behind glass counters of handguns, are three dozen or so AR-15-style rifles. Dangling from nearly every one is a tag that says "Sold."

"The AR-15, it's kind of fashionable," says Frank Loane Sr., the proprietor. His shop has a revolving waiting list for the rifles, and a handful of people are now on it. "The young generation likes them, the assault-looking guns…"

But despite the headlines, and partly because of them, commercial gun sales are growing. Last year, they were up 16 percent industrywide, according to estimates from the National Shooting Sports Foundation, an industry trade association. Semiautomatic rifles like the AR-15 are responsible for a significant share of that growth.
One can be forgiven for reading The New York Times and leaving with the impression that, yes, the entire country is stampeding its nearest weapons shops and loading up on anything with a trigger. This is just the latest in a long line of examples of the media helping to create a story, then reporting on the fallout from that story from a detached perspective, as if the press had nothing to do with the preceding whirlpool of artificially manufactured "news" in the first place.
Related articles
Post Revisions:
This post has not been revised since publication.