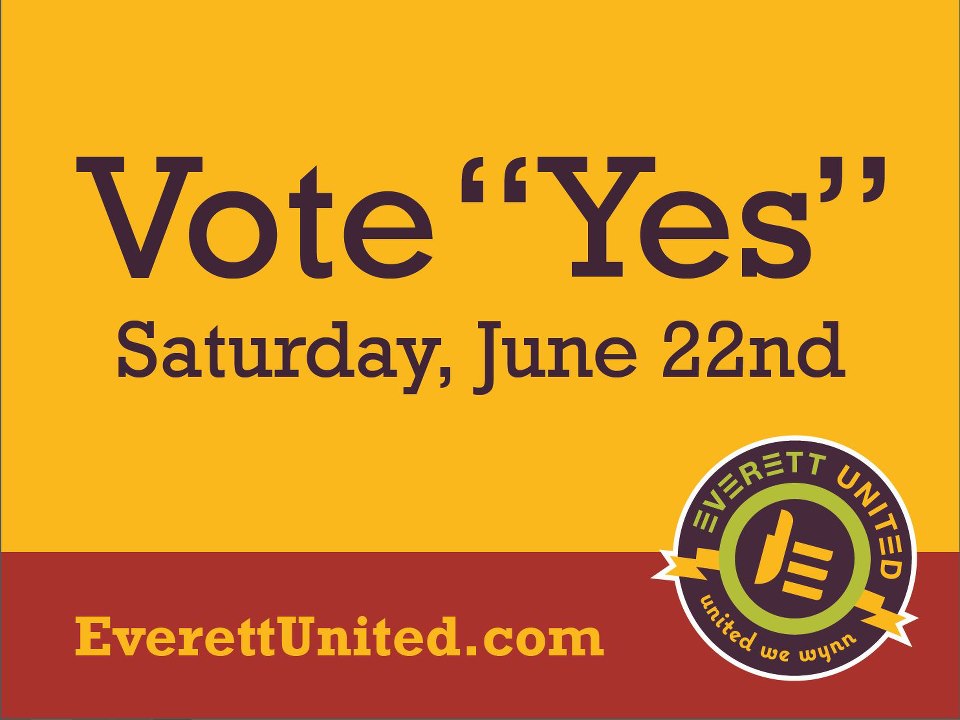 (UPDATE 5/31/2013 6:48 PM EST: The headline of this post has been changed from "No Saint in this game: Wynn Resorts uses Everett United to gain casino support" to "No Saint in this game: Is Wynn Resorts using Everett United to gain casino support?" Additionally, per Seth Cargiuolo's request, I have removed a screenshot of his Facebook profile that included a photo of his minor children. This photo has since been replaced with a screenshot of his newest profile.)
(UPDATE 6/3/2013 11:34 AM EST: I have updated this post to reflect confirmation from one of the Facebook commenters that she did not delete her own post on the Everett United Facebook page.)
Several weeks ago while scrolling through my Facebook newsfeed, I ran across a post that had been Liked by an acquaintance from my old hometown of Everett, Massachusetts. The post was written by Everett United, a group I'd never heard of before, and it concerned a new casino being proposed for Everett by Las Vegas casino/resort mogul Steve Wynn.
Out of curiosity, I began reading through the group's Facebook page. Having lived for nine years in Everett, it seemed improbable to me that anyone would find it a good idea to place a casino there. A small suburb just north of Boston, Everett had just under 42,000 residents in the 2010 census, and its median household income is $48,319 (about 8.4% below the national average). From long personal experience, I know that Everett is, in every way, the polar opposite of glamorous.
The Facebook page for Everett United, which launched in March, describes the group as "a coalition of local residents and business leaders who support the idea of a world-class resort hotel and entertainment complex in Everett." The group's dedicated web site, EverettUnited.com, contains a similar statement: "Everett United are your neighbors…the clerk at the checkout counter…your friends and co-workers. Together, we view the Wynn Resort and Hotel in Everett as a once-in-a-lifetime opportunity to greatly improve our city and quality of life. It's a project we need, and deserve, more than any other community" (ellipses in original).
The objective of the group is to drum up support for a June 22 citywide referendum in Everett, required under state casino law, in which Everett residents will decide whether to approve the host agreement between Wynn Resorts and their city. If they do, the proposed hotel and casino complex will then be one of three contestants for a Greater Boston casino license, whose winner will be decided by the Massachusetts gambling commission.
The further I looked, however, the more unlikely it seemed that Everett United was truly a grassroots organization. The first anomaly that struck me was the overwhelmingly positive tone of posts on its Facebook wall: there was a virtually unanimous consensus in favor of building a casino in Everett.
Secondly, the group appeared highly organized and well-funded. It has its own office on 13 Chelsea Street in Everett, which is open from 12 PM to 8 PM on weekdays and 10 AM to 5 PM on Saturdays. And not only were pro-Wynn Casino signs made available free of charge to anyone who wanted them, but Everett United even offered to deliver them directly to residents' homes.
Thirdly, the wording of certain portions of Everett United's web site bore an uncanny resemblance to that of the official Wynn web site for the Everett proposal at WynnHarborPark.com, suggesting that the same team had prepared both.
For example, the "Get Involved" panel on EverettUnited.com's homepage had virtually identical contribution options to the Wynn Harbor Park's registration page. At the former site, the registrant had the option of checking boxes for "I would like to display a window or lawn sign" and "I would like to volunteer my time for the cause." At the latter site, the corresponding options were "I would like to display a window or lawn sign in support of Wynn Everett" and "I would like to volunteer my time for the cause." Similarly, Everett United's form included a disclaimer that read:
By entering my personal information I hereby grant permission for my name to be used in any promotional materials and advertising that Everett United may prepare in support of the Everett Wynn Resort and Hotel proposal.
The official Wynn Harbor Park registration page had a very similar disclosure:
By submitting this form, I hereby grant permission for my name to be used in any promotional materials and advertising in support of the Everett Wynn Resort and Hotel Proposal.
See images of both pages below: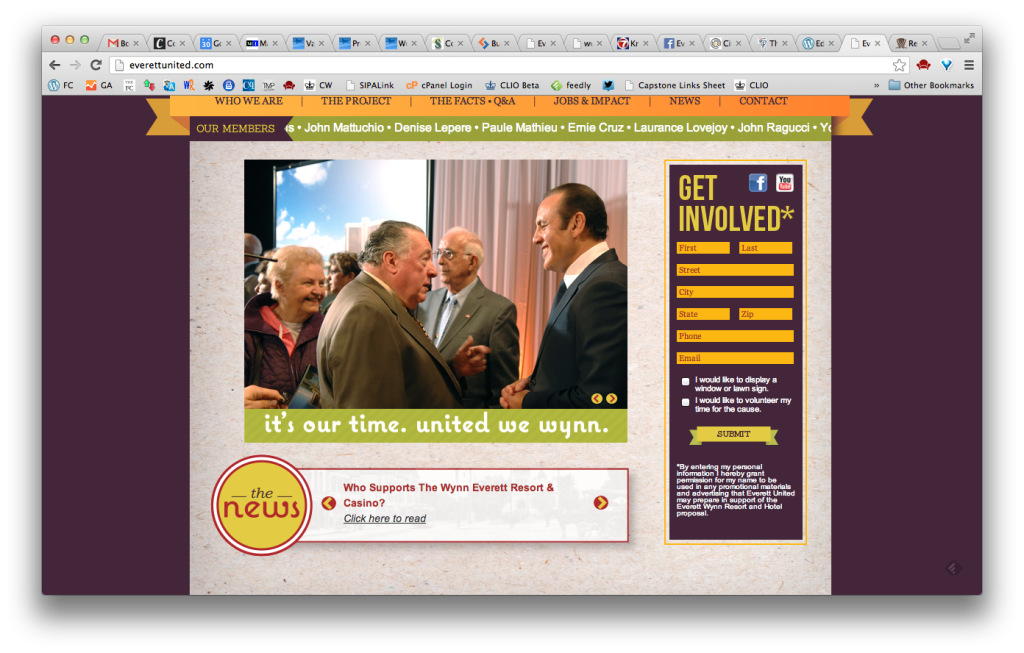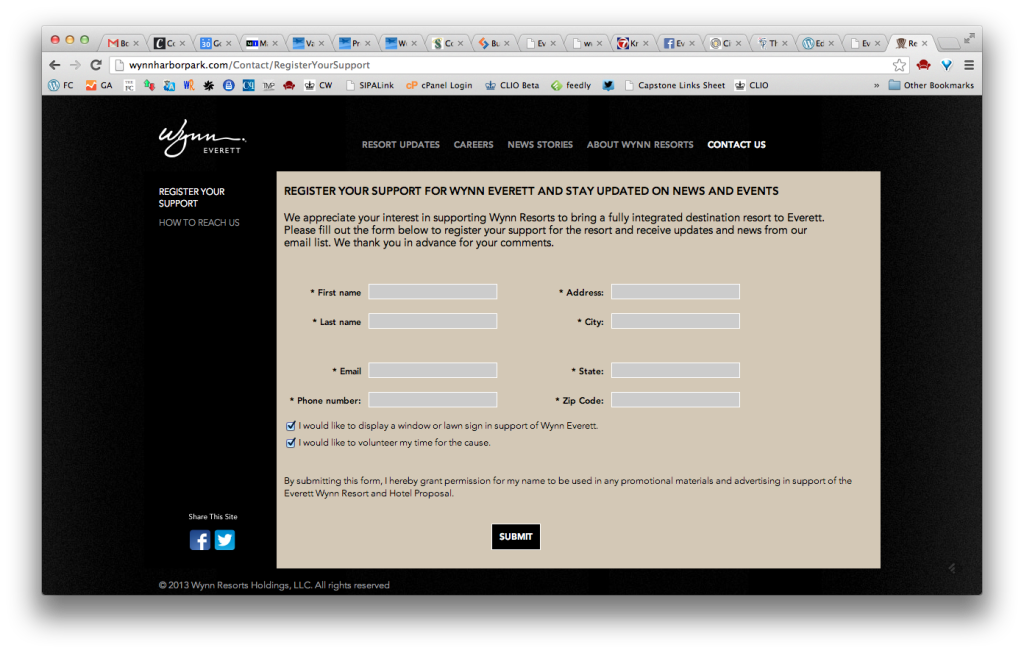 Fourthly, the tone of posts by Everett United itself was unusually hostile to opponents of the proposed casino resort, especially for an ostensibly community-led organization. On May 14th, for example, Everett United posted the following message:
INTRUDER ALERT: We knew there would be shenanigans and stunts pulled by our competitors to try to influence the vote here in Everett and here they come. We have multiple reports of people hanging around outside Everett stores and coffee shops talking about how bad this project will be for Everett. They are not from here and they are likely being paid to stir up trouble. If you see them, get a picture of them on your mobile phone. Ask them where they live and why they are here. Please report it here so we can expose them for what they are. Everett is going to stand united and no one is going to pull us apart when it comes to winning this project! Keep your eyes and ears open and spread the word. INTRUDER ALERT!
Three days later, the group posted again:
The shenanigans continue! Now some anonymous but strangely well funded stranger has sent "Everett No Casino" bumper stickers and nasty letters all around Everett. Who knows what else they will try or what lengths they will go to. Let us know what you see and hear out there!
This time, I noticed something odd. Shortly after a couple commenters politely replied that, regardless of one's views on the casino, there was nothing necessarily wrong with another group sending out materials advocating against the proposal, their posts disappeared. I hadn't taken any screenshots beforehand, so I had no proof of this. But I began to watch more closely for more of the same.
It didn't take long before it happened again. Below is a screenshot of a post taken at 5:50 PM EST on May 21st, in which Everett United announced that McKinnon's (a local butcher shop) had decided to support the Wynn casino resort proposal. One of the comments in reply stated simply, "Dislike."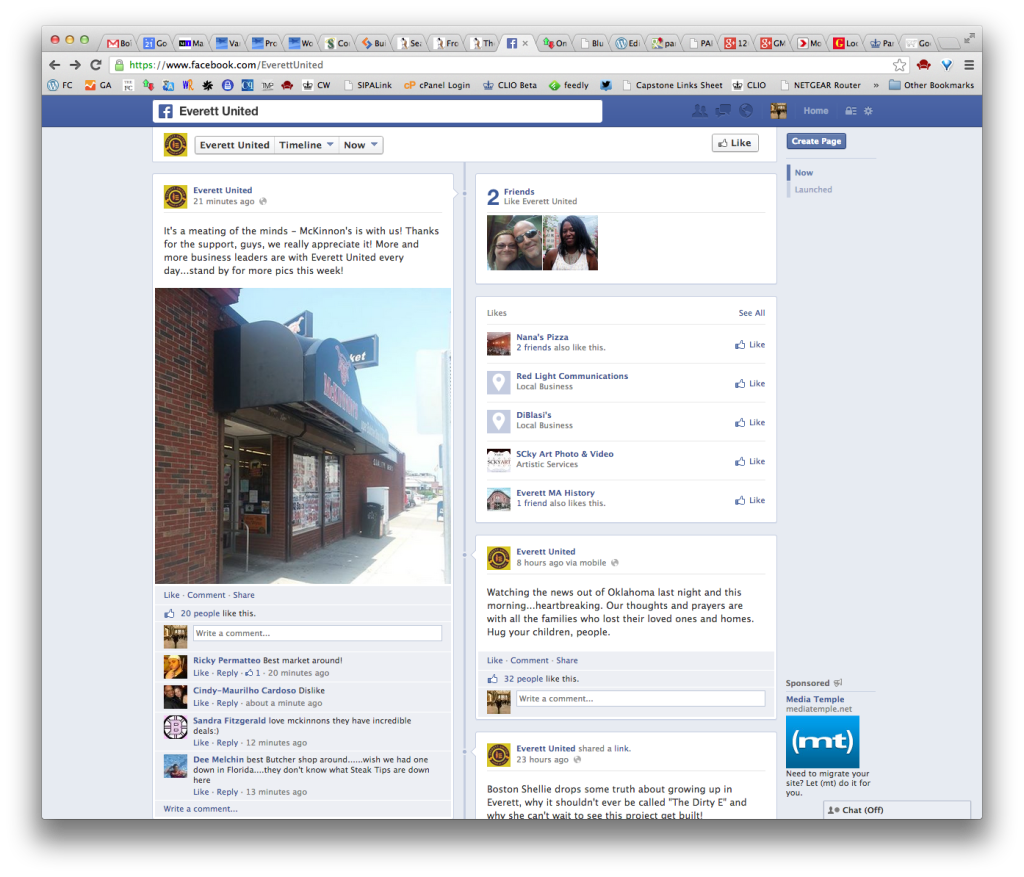 By 6:14 PM, just 24 minutes later, that comment had vanished: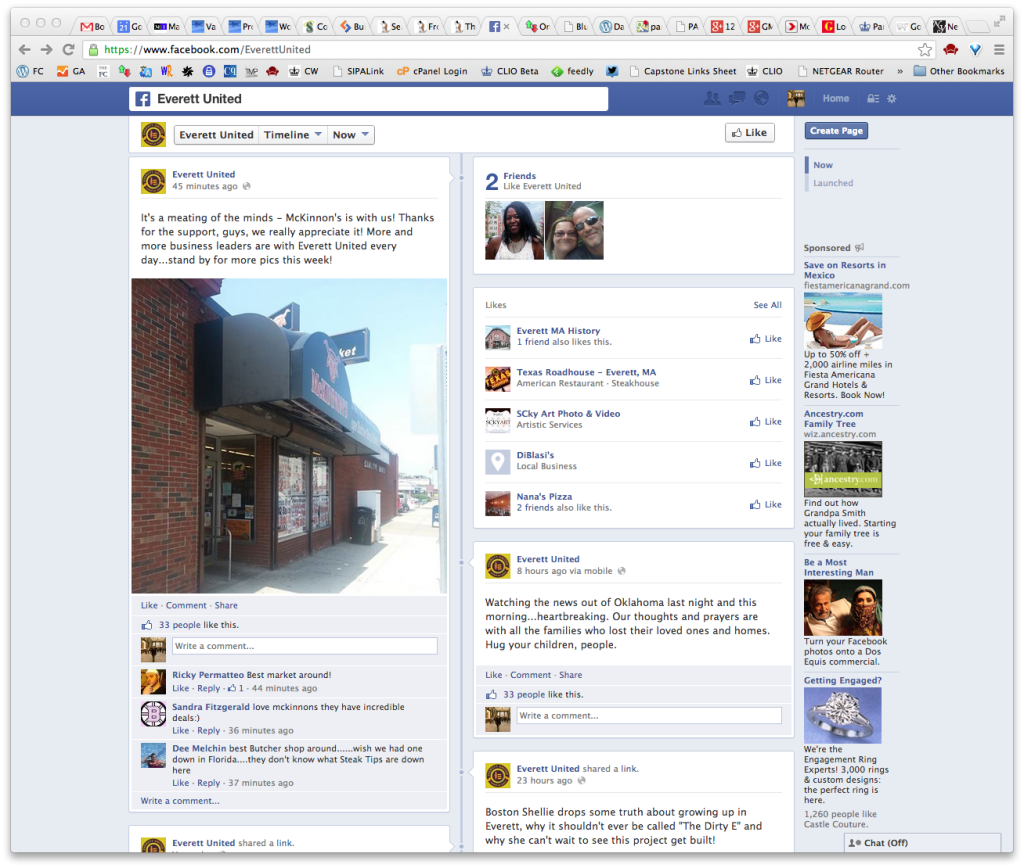 Three days later, the same thing happened again. At 12:43 PM, I took a screenshot of an Everett United post from two days earlier, in which the group had posted a link to a Boston Globe article highlighting the Wynn team's plans to improve traffic near the casino by replacing a busy rotary with a "flyover from Route 16." One bemused commenter replied, "No way it will help. It's still a two-lane road."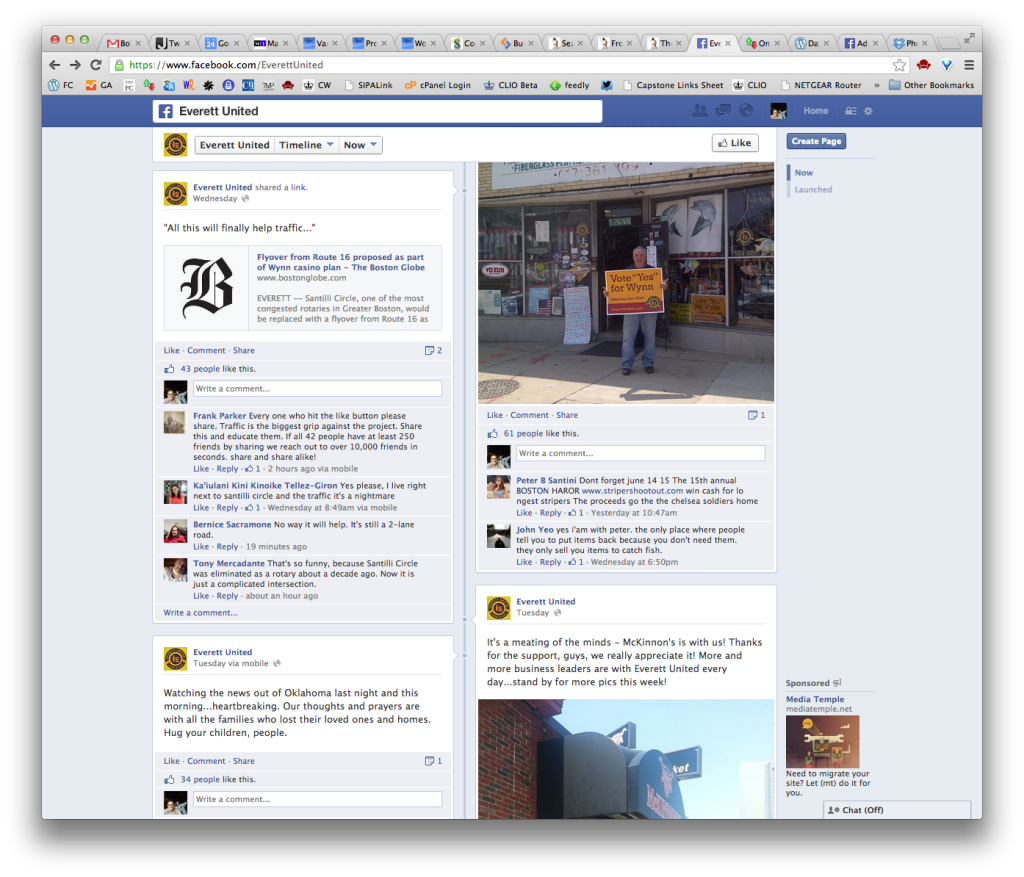 Just over two hours later, at 2:57 PM, the comment was nowhere to be found: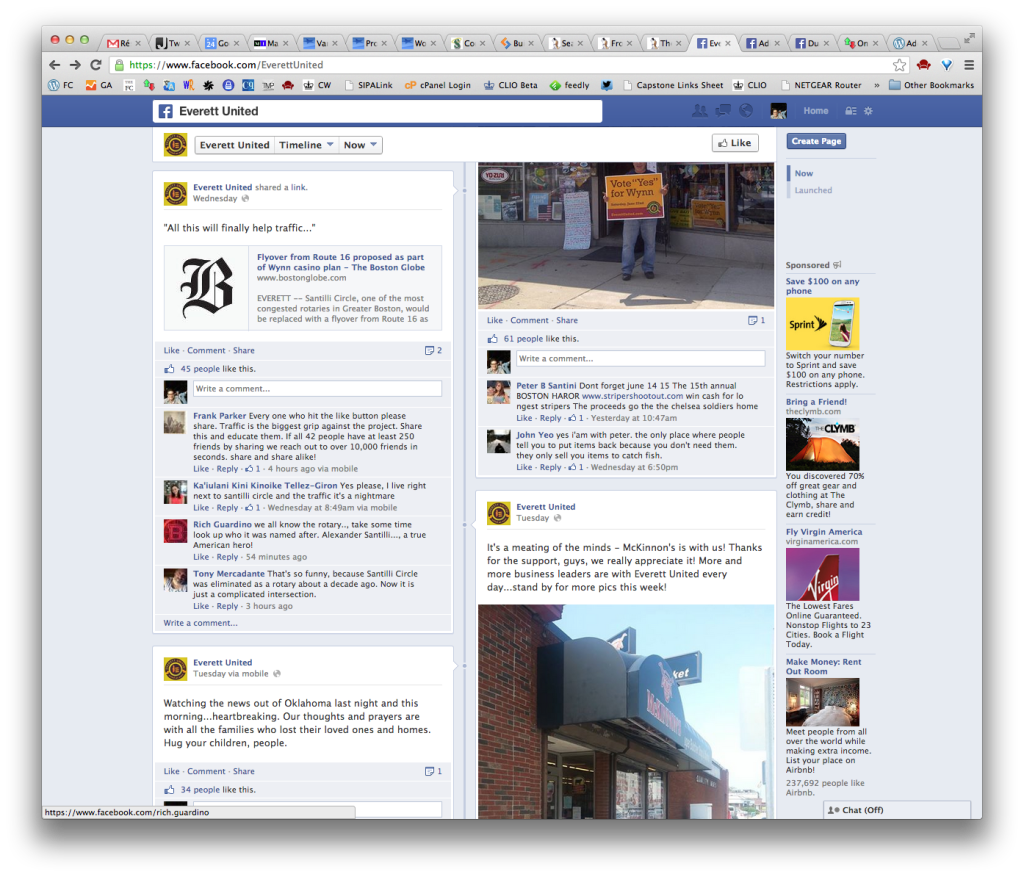 (I contacted both commenters to confirm that they had not deleted their own posts. One confirmed that she had not, writing: "I don't even know how to delete a post." The other replied, "I don't remember deleting it.")
Around this time, I began to dig around a little and quickly found dissenters elsewhere, sporadically disseminated across various message boards and comment sections. Brief research led me to multiple skeptics who, explicitly or otherwise, suggested that Everett United was not exactly what it purported to be. Several of these commenters named an organization called Saint Consulting Group as a financial backer of Everett United.
So I started trying to contact both Everett United and Saint Consulting Group. On May 17th, I called Sandy Juliano, whom the Everett Independent, a local newspaper, identified as the "founder and president of Everett United." Juliano, along with several others, had been treated to a tour-guided (and Rolls Royce limousine ride-included) stay at Steve Wynn's properties in Las Vegas in April as the Everett proposal gained steam. (Although her real estate business, JRS Properties, Inc., is based in Everett, Juliano is actually a resident of North Reading.)
Juliano answered her cell phone and I identified myself as a writer who wanted to speak to her about Everett United. She asked me who I wrote for, and I explained that I have written for various publications such as The Huffington Post, as well as on my own web site. She then asked whether my site was pro- or anti-casino, to which I replied that it is neither one and that I mostly cover national and international politics. I mentioned that I am originally from Everett and found the movement interesting.
Upon hearing this, Juliano — who remained cordial throughout — explained that she'd been having some kind of trouble with anti-casino advocates recently (I don't recall her exact phrasing) and that she wanted me to send her a link to my web site via email, after which she would call me back. She had a property inspection she was headed to and would call me back when it was over — in about two hours, she said. I thanked her and immediately emailed her a link to my web site, explaining again, "I saw a few Facebook posts about Everett United from old friends, and was curious about the project."
Despite her helpful demeanor, I was somewhat perturbed by the phone call. Once again, immediately questioning the motives of a caller and referencing trouble with opponents of the casino proposal didn't seem in line with normal strategy for a community-based organization. It was stranger still when Juliano not only never called me back, but also didn't reply to a follow-up email I sent three days later, on the subsequent Monday.
Meanwhile, on May 17th, the same day I originally contacted Juliano, I performed a quick whois.com domain name search of EverettUnited.com's site registration, and found that Saint Consulting Group was listed as the registrant and administrative contact for the site: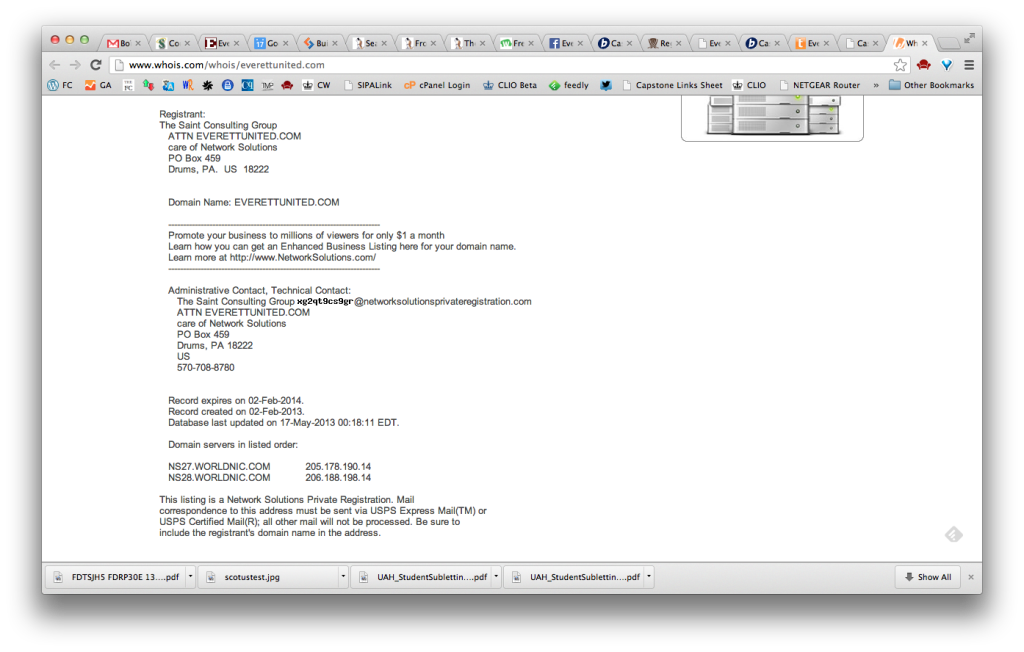 According to its web site, Saint Consulting Group has been "winning controversial local, state, & federal land use campaigns since 1983." The site's Entertainment & Gaming page boasts:
The Saint Entertainment and Gaming Practice represents resort developers, casino operators, gaming companies, race track owners, stadiums, theme park operators, movie theatre owners, golf course developers and other real estate interests related to entertainment and gaming. This practice focuses on developing successful strategies that earn public land use approvals for casinos, racetracks, sporting and hospitality projects and protect commercial assets from unwanted competition.

Our gaming clients are typically seeking local zoning approvals or state level permissions for their casinos and related facilities like racetracks and off track betting. Our entertainment clients are typically seeking local or county zoning permissions and entitlements.

Through our work permitting expansions and greenfield development, we've confronted myriad opposition styles, objections and tactics. We have coordinated land use campaigns in every region of the U.S., successfully helping our clients in obtaining county zoning permits, all types of municipal relief, as well as the EPA and Army Corps of Engineers approvals.

Our approach has overcome opposition from local community groups, regional environmental associations, the Sierra Club and elected officials.

The Saint Entertainment and Gaming Practice is experienced and expert in building community support for — and overcoming opposition to —projects of any size or scope.
One case study on the site centered on a client who was planning "a 1,000-acre mixed-use development with conference center and restaurants in a tourist city. To attract convention attendees and high-rent tenants, a 'liquor by the drink' question had to be placed on the ballot and approved." Describing its (ultimately successful) strategy, the case study explained how Saint achieved its client's objectives, which included the following tactics (among others):
Focused on key local business supporters, such as restaurants and tourism, and on key political supporters including the mayor. These supporters assisted in the petition gathering, making it a "local" effort.

Executed a targeted door-to-door canvass of registered voters, focusing on established neighborhoods with high concentration of registered voters.

Tailored our message to secure signatures from both supporters and opponents.
These strategies hewed closely to Wynn Resorts' methodology in Everett, a process that has included successfully wooing Everett mayor Carlo DeMaria.
The media has been less kind in its appraisals of Saint Consulting Group. A 2009 Forbes article described one of Saint's tactics as "[playing] bad cop, in part by painting protesters as carpetbaggers" — a characterization perfectly in line with Everett United's "INTRUDER ALERT" Facebook post. The article, which claims Saint Consulting Group earns $30 million annually on projects with an average fee of $250,000, continues:
For obvious reasons clients insist on anonymity. So Saint goes "undercover," riling up neighbors, turning them against a group or company, quietly offering legal advice, as well as tips on how to organize and turn up political pressure. Fox says some neighbors are suspicious that he's an enemy plant, though he tells them, "I'm here to help you. I do this across the country." Funds to pay, say, a traffic expert are sometimes handled through attorneys so they can't be traced back to Saint or its client. Fox encourages neighbors to hold fundraisers, which further disguises Saint's fingerprints; often its agents use fake names.
In 2010, a Wall Street Journal article described another campaign by Saint Consulting Group in which its client, a grocery-store chain, hired it to drum up opposition to a Wal-Mart being proposed in its area. The article explained:
Mr. Saint, a former newspaper reporter and political press secretary, founded his firm 26 years ago. It specializes in using political-campaign tactics—petition drives, phone banks, websites—to build support for or against controversial projects, from oil refineries and shopping centers to quarries and landfills. Over the years, it has conducted about 1,500 campaigns in 44 states. Mr. Saint says about 500 have involved trying to block a development, and most of those have been clandestine.

For the typical anti-Wal-Mart assignment, a Saint manager will drop into town using an assumed name to create or take control of local opposition, according to former Saint employees. They flood local politicians with calls, using multiple phones to make it appear that the calls are coming from different people, the former employees say.

They hire lawyers and traffic experts to help derail the project or stall it as long as possible, in hopes that the developer will pull the plug or Wal-Mart will find another location.

…

Mr. Saint says he "encouraged" his employees not to use their real names in campaigns in order to protect the client's identity and "to protect our employees, who have been followed, threatened and harassed by the opposition."
The article described numerous unsavory activities that Saint has participated in on behalf of its corporate clients. During one anti-Wal-Mart campaign, even opponents of the superstore were unaware that Saint was funding their advocacy:
One member of the citizens group, Kip Kelly, says a woman he assumed was from a labor group or anti-Wal-Mart coalition had offered to fund the effort. Former Saint employees say the woman was a Saint operative and that Giant was paying the group's legal bills through Saint. Tracy Cadzow, the lawyer who represented the group, says she had no idea that the grocer was behind the effort. "This is new information to me," she says.
The article's allegations were so severe that Thomas E. Eppes, Chair of the Public Relations Society of America's Board of Ethics and Professional Standards, unequivocally denounced Saint's practices in an online post:
For that reason, it is essential that we clearly and firmly declare our separation from this "dark side" of communications. As ethical public relations practitioners, we encourage every reputable business and practitioner to join PRSA in categorically condemning and disavowing these strategies and those who practice them.
Finally, the Wall Street Journal article included this revelation, from another Saint project: "Former Saint employees say much of the work consisted of training Safeway's unionized workers to fight land-use battles, including how to speak at public hearings."
This would again be consistent with Everett United's methods. An April article in the Everett Independent stated:
Following the public speaking portion of the agenda, the Aldermen did allow Sandy Juliano, a North Reading resident, Everett businesswoman and founder and president of Everett United to address the [Everett Board of Aldermen] for approximately five minutes to explain Everett United's support for the casino and its mission as a whole.
On Friday, May 17th, the same day I'd called Juliano, I also called the media relations contact for Saint Consulting Group, Stephen Shepherd, twice but was unable to reach him. I then sent him an email, explaining that I'd found Saint Consulting Group registered for the EverettUnited.com domain name and asking him to confirm that SCG owned and funded Everett United on behalf of Wynn.
Shepherd never responded. But by the following Monday, just three days later, the whois.com domain-name registration had changed to eliminate all references to Saint Consulting Group: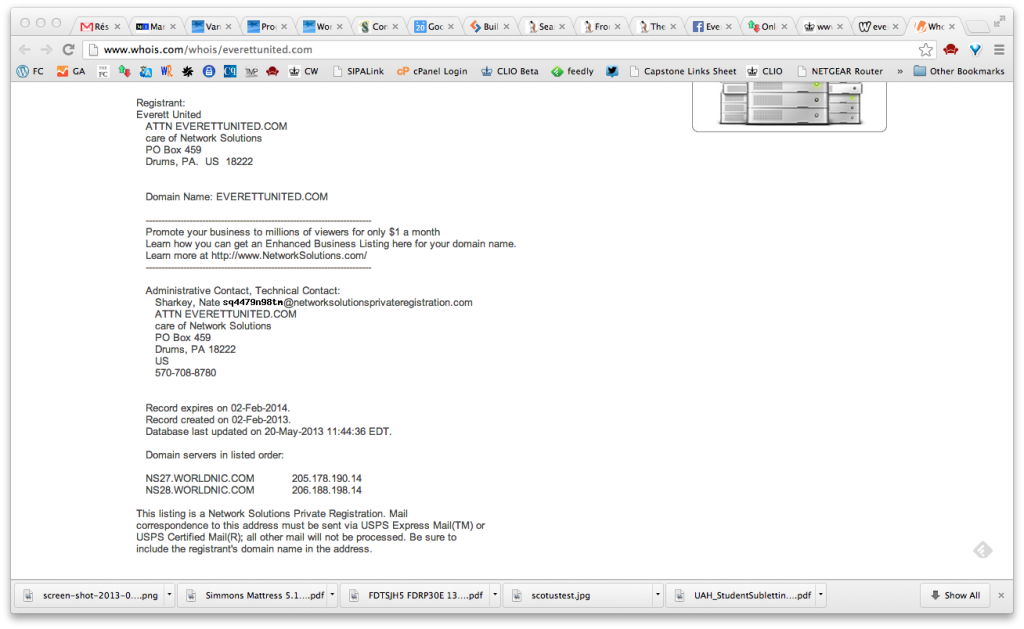 They weren't very careful, however. As seen above, someone named Nate Sharkey was listed as the administrative contact for the site. A quick Facebook search led to a profile that included "Worked at The Saint Consulting Group" in the About section: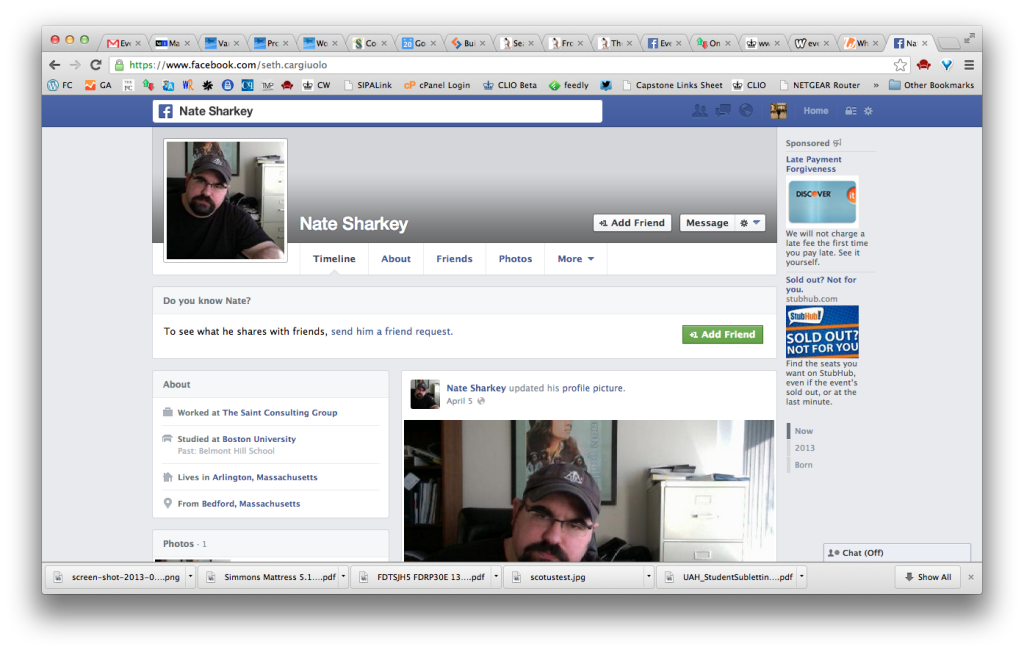 Furthermore, as seen in the above screenshot, the URL for Sharkey's Facebook profile (which is viewable in the address bar) references someone named Seth Cargiuolo. Searching for this name leads to a profile with a photo of the same man, and an About section that states: "CKO & Director, Digital Strategy at The Saint Consulting Group."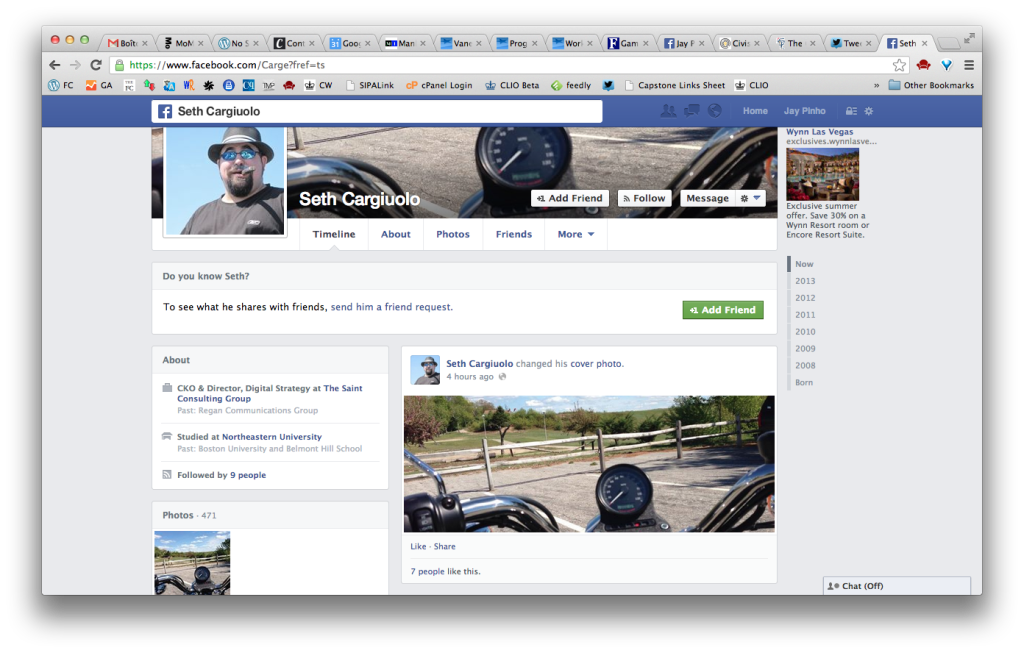 His Twitter profile says essentially the same thing: "CKO & Digital Strategy Guy at The Saint Consulting Group."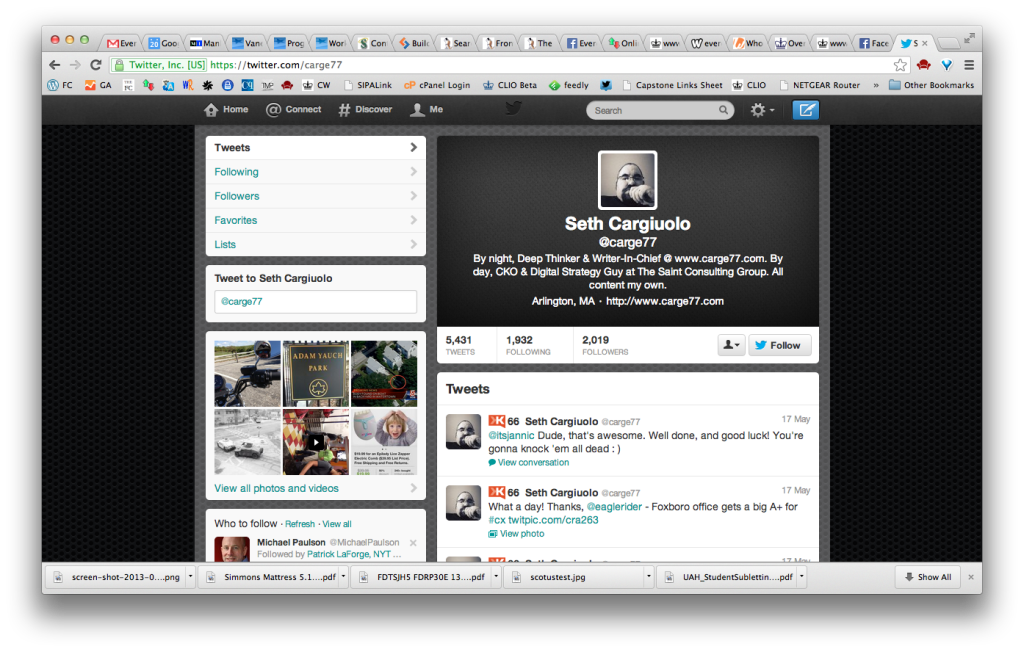 As do his LinkedIn page and Quora profile. So regardless of Saint Consulting Group's disappearance from Everett United's domain-name registration, it is still very present behind the scenes.
What is so problematic about this arrangement is that everything from the name of the group — Everett United — to its grassroots pretensions, from its hostility towards casino opponents to its apparent censorship of critical Facebook posts, deliberately portrays an image of popular consensus on the proposed Wynn casino/hotel complex that is decidedly at odds with reality.
(Even Everett United's "Facts" page gets it wrong: it states that "Steve Wynn grew up in Revere," which is a stretch at best. Steve Wynn has made numerous references to his Revere connection, but his childhood was mostly spent in Utica, New York.)
Everett will get its chance to vote for or against the proposed casino in just a few short weeks. If, as expected, the residents approve the proposal and if Massachusetts subsequently awards the gaming license to Wynn and not either of his competitors, time will tell whether the ambitious project is beneficial to Everett in the long run. But it shouldn't be too much to ask to ensure that Everett's residents know just who is purporting to unite them.