We try to target the rocketeers, we do, and all civilian casualties are unintended by us but actually intended by Hamas. They want to pile up as many civilian dead as they can, because somebody said they use, I mean it's gruesome, they use telegenically dead Palestinians for their cause. They want the more dead, the better.

– Israeli prime minister Benjamin Netanyahu
No one fears propaganda quite like a propagandist.
When Benjamin Netanyahu speaks of "telegenically dead Palestinians," he is attempting to negate, via sardonic aside, the collective effect of hundreds of images of bloody, lifeless bodies — often very tiny ones — being mourned by men and women in the throes of unspeakable agony. These images, vivid in their specificity, he considers propaganda. Netanyahu fears "telegenically dead Palestinians" precisely because Israel's dwindling foundation of international support hinges on their invisibility and, therefore, on his ability to foster a telegenic humiliation of the Palestinian people.
That for years he has managed to accomplish this, and to do so with remarkable dexterity, is a testament both to Netanyahu's media savvy and his interlocutors' credulity. He is helped along, too, by a decidedly non-telegenic  bête noire in Hamas — one whose nonchalance towards the civilian Palestinian death toll rivals Israel's.
But Netanyahu increasingly resembles the boy who cried wolf. His monotonic recitations of impending doom at the hands of the blockaded and helpless Palestinians (or, in convenient moments, Iran) evoke Joe Biden's damning encapsulation of Rudy Giuliani, a kindred opportunist in gleeful exploitation of tragedy for political gain: "…A noun, and a verb, and 9/11. I mean, there's nothing else. There's nothing else." (Netanyahu's adherence to the Giuliani playbook is in fact doubly insidious: while he liberally trades on the memory of the Shoah to lend gravitas to his hawkish policies, he has abandoned actual Holocaust survivors badly in need of food, healthcare, and other basic necessities.)
Netanyahu's problem — and, by extension, Israel's — is that the impact of his militaristic drumbeating is undermined by his obvious lack of interest in regional peace: acquiescing to American pressure shortly after Barack Obama's first inauguration, Netanyahu — the same man who had once exulted in scuttling the Oslo peace process and boasted that "America is a thing you can move very easily" — cannily declared himself, for the very first time, in favor of a two-state solution. Determining which statement represents the truth is, as always with Bibi, a matter of finding whichever quote was spoken the furthest distance away from a visible television camera. Just as telling are his insistence on settlement-building and his plans for a long-term occupation of the West Bank.
Most Americans, however, are not following along closely enough to parse out fact from fiction. It is no accident that, in his frequent appearances on American television and in person, Netanyahu is fond of appropriating American imagery to vivify Israel's existential threat of the moment for a receptive audience. In 2011, he described the 1967 borders as "indefensible," explaining: "Israel was all of 9 miles wide — half the width of the Washington Beltway." Four days later, he used the same line in front of a joint session of Congress.
Two weeks ago, Netanyahu told CNN's Wolf Blitzer: "I mean, imagine what Israel is going through. Imagine that 75% of the U.S. population is under rocket fire, and they have to be in bomb shelters within 60 to 90 seconds. So, I'm not just talking about New York. New York, Washington, Chicago, Detroit, San Francisco, Miami, you name it. That's impossible, you can't live like that." (Nearly two million Gazans do live like that, and far worse.)
Netanyahu's communicative style here is in keeping with a 116-page booklet called "The Israel Project's 2009 Global Language Dictionary," authored by Republican strategist Frank Luntz. The document was written for "visionary leaders who are on the front lines of fighting the media war for Israel," and it contains blunt strategic advice on how to promote Israel's point of view to the foreign public, especially Americans:
"Don't talk about religion. Americans who see the bible as their sourcebook on foreign affairs are already supporters of Israel. Religious fundamentalists are Israel's 'Amen Choir' and they make up approximately one-fourth of the American public and Israel's strongest friends in the world…The primary reason for this is that their religion tells them to do so." (p. 12)
"Personalize the problem for the American audience…'Imagine Washington, DC under missile attack from nearby Baltimore.'" (p. 42)
"Israel is so rich and so strong that [leftists] fail to see why it is necessary for armored tanks to shoot at unarmed kids or why Israel needs to level homes or attack villages or, most importantly, why a Palestinian state is a threat to Israel's existence." (p. 96)
Similarly, Israeli officials seem to be heeding the report's admonition to communicate empathy from the start: "Indeed, the sequence of your conversation is critical and you must start with empathy for BOTH sides first" (p. 4). On July 29th, Netanyahu's spokesman, Mark Regev, responded thusly to CNN host Jake Tapper's  question about the death of Palestinian children:
You know, we had a special press conference in Tel Aviv last night.

And the chief of staff of the Israeli military, the most highest Israeli official in uniform, he said it in openly, and he said it in Hebrew to the Israeli public. It wasn't something for foreign consumption. He said, every innocent victim in Gaza pains us.

And I think he was saying something very genuine, something very real that Israelis feel. We don't want to see innocent civilians caught up in the crossfire between us and Hamas.
While the above approaches are tailored to a more skeptical audience, the Israel Defense Forces' Twitter account, by contrast, is a tour de force of wartime propaganda.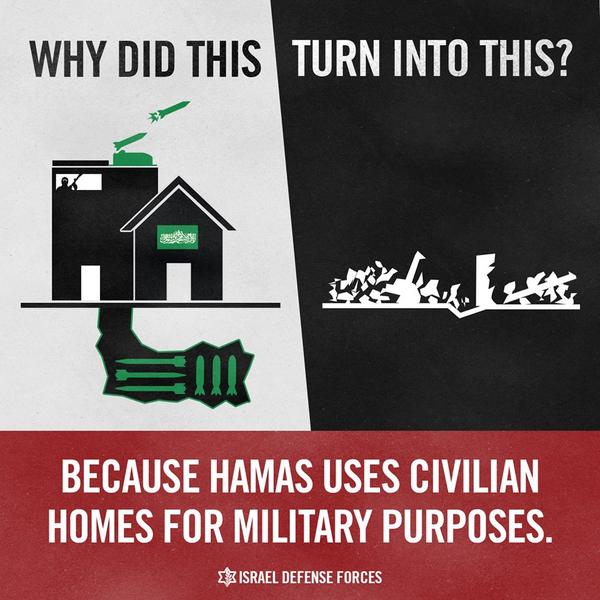 On August 2nd, for example, the IDF tweeted the following text accompanied by a video: "WATCH: More Hamas tunnels successfully destroyed in Gaza." The tweet just prior linked to the IDF's blog and declared: "Israel accepts ceasefires, Hamas rejects them." (That tweet — which was posted at 9:39 AM EST on August 2nd — was directly contradicted by Haaretz, which had reported just minutes earlier that "Israel will no longer seek a cease-fire in the Gaza Strip via negotiations with Hamas, senior Israeli officials said.")
Given this meticulous attention to words and their varying effects on foreign ears, it is unsurprising that Netanyahu is just as carefully attuned to media coverage of the Palestinians. It especially explains his description of "telegenically dead Palestinians," a phrase as notable for its dismissal of authenticity as it is for its derision.
The problem for defenders of Israel's actions in Gaza, however, is that the Palestinian death toll, now surpassing 1,500, is all too real. The vast majority of these appear to be civilians: some estimates place the percentage at 80% or above, and even Israeli deputy foreign minister Tzachi Hanegbi acknowledged that he was only able to confirm that 47% of Palestinian deaths were combatants. (This is not to say that Hamas eschews propaganda; however, its efforts in this arena are so ham-handed as to be nearly comical.)
The civilian casualties have shaken even some of Israel's allies. United States Secretary of State John Kerry, unaware that he was being captured on microphone, fumed to an aide about the extent of Israeli military actions in Gaza: "It's a hell of a pinpoint operation," he said twice. In recent days, both New York Magazine columnist Jonathan Chait ("Israel Is Making It Hard To Be Pro-Israel") and Vox founder Ezra Klein ("Why I have become more pessimistic about Israel") have penned pieces airing their discomfort with Israel's bombardment as well.
The cumulative effect of on-the-ground reporting and photography streaming out of Gaza is beginning to create a rare dynamic for Israel: in this conflict, at least, young Americans no longer see Israel as David, but as Goliath. Based on the threads of evidence from recent polling by Gallup and Pew, young adults are starting to look at Israel and feel, if not always say, "Enough."
This empathy for the Palestinians' plight was precisely Netanyahu's target when he described dead Palestinians as telegenic (a rhetorical device whose horrendous history ought to especially shame Netanyahu). But even according to Frank Luntz's handbook, this technique does not play well: "The Israel-against-the-world, woe-are-we approach comes across as divisive" (p. 17).
This leaves Israel, and its advocates, precious little material to work with, and the result is a predictable regurgitation of "What would you do if…" questions. But this intellectual conceit is wearing thin, especially since the immediate riposte is so obvious: Stop occupying the West Bank and bombarding Gaza. (Another tactic, attempted by former presidential speechwriter David Frum, is to deny reality altogether.)
In truth, there is no effective Israeli response to the video of a weeping Chris Gunness (above), the spokesman in Gaza for the United Nations Relief and Works Agency (UNRWA), just as there is no appropriate reply to the images of dead children. The authenticity is bracing, and it leaves little room for caricature or dismissal. The question is just how long it will take Israel to stop playing the cartoon villain.
Post Revisions:
This post has not been revised since publication.