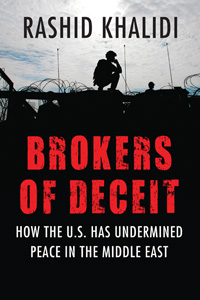 Rashid Khalidi, Brokers of Deceit: How the U.S. Has Undermined Peace in the Middle East (Beacon Press: 2013)
On Wednesday, Barack Obama will travel to Israel for his first official visit as President of the United States. The day after he arrives, he will deliver a speech to Israeli students at the International Convention Center that is expected to tread conventional ground regarding the peace process while gently reminding his audience that respecting Arab public sentiment on the occupation is a necessary condition for achieving a two-state solution.
Such modest objectives may seem anathema to true believers in Middle Eastern peace. But they are perfectly in keeping with the "peace process" industrial-complex portrayed by Palestinian-American historian Rashid Khalidi in his new book, Brokers of Deceit: How the U.S. Has Undermined Peace in the Middle East.
"I want to examine here…the veil that conceals how the policy of the United States toward the Palestine question has actually functioned to exacerbate rather than resolve this problem," writes Khalidi in his introduction. Central to this disguise is the use of deliberately misleading language that wraps the decades-long stalemate in the ennobling lexicon of progress, before smothering it in the bureaucratic technobabble of "road maps" and "facts on the ground." (If this sounds familiar, the bloodied remains of innocent drone strike victims have now attained the similarly reverential status of "collateral damage.") Indeed, the all-encompassing term "peace process," which Khalidi deems an "Orwellian rubric" obscuring "decades of futile initiatives," is itself a figment of erstwhile imaginations warped beyond recognition by enough conferences, talks, and accords to fashion world peace several times over.
A question naturally presents itself: why bother with this charade at all? For Khalidi, much of the answer can be found in the goals of the various parties. He defines a successful resolution of the Israeli-Palestinian conflict as one entailing complete Israeli withdrawal from the West Bank and East Jerusalem, a "just resolution" for Palestinian refugees, and national autonomy for the Palestinian people. That all of these outcomes have failed to materialize is a product of Israeli and Palestinian deficiencies, of course. But it is also an indictment of American foreign policy on the subject, which has unfailingly taken Israel's side as the prospects for peace slide with increasing urgency into history.
The reasons for the American-Israeli two-step and the United States' consequent inability to end the Israeli-Palestinian conflict are threefold, Khalidi argues. The oil-exporting Gulf states have exerted almost no pressure on the United States over the plight of the Palestinians, domestic politics (especially the overwhelmingly hawkish Israel lobby) has prevented a change in strategy, and American policymakers demonstrate virtually no sympathy for the political and psychological duress of the Palestinians. On this last point, Khalidi quotes Richard Nixon, who in 1973 confided to Henry Kissinger: "You've got to give [Arabs] the hope…You've got to make them think that there's some motion; that something is going on; that we're really doing our best with the Israelis."
"Doing our best," it is no surprise to learn, meant something quite different to the Americans than it did to their Palestinian interlocutors. Behind Nixon's Machiavellian scheming lay a rather simple truth: the domestic constituency for Palestinians was nonexistent, while Israel's supporters regularly raised an unholy clamor. Forty years later, the Oval Office has occasionally changed hands but the calculation remains maddeningly identical. If anything, the din of the hawks has grown even louder: Khalidi accurately notes that an "increasingly formidable constellation of obstructionist forces" confronted Obama's every timid attempt at course correction. Continue reading Book Review – Brokers of Deceit: How the U.S. Has Undermined Peace in the Middle East →