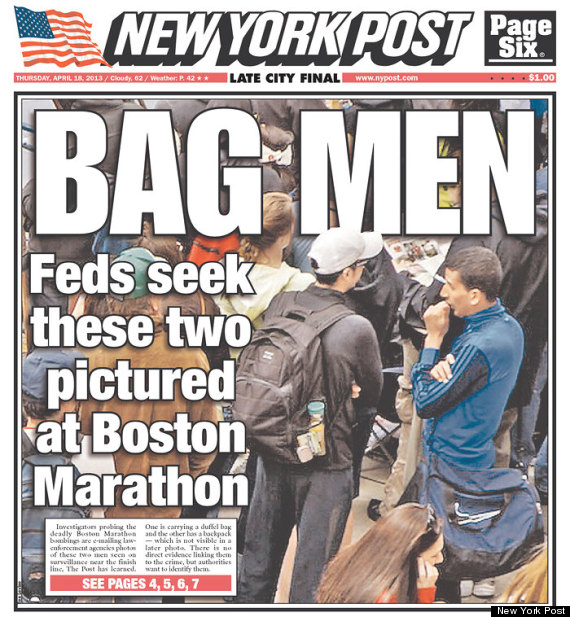 Jonathan Chait recaps the checkered performance of the media and the public in the Boston marathon bombing story:
In polarized America, both the reds and the blues have legitimate reason to fear that a tragedy will unleash an overly broad backlash. Liberals recall the false blame heaped on Muslim terrorists after Oklahoma City, and the real blame of 9/11 transforming into a fever of Bush-worship and jingoism. Conservatives recall mainstream reporters rushing to blame them, falsely, for shootings in Aurora and Tucson. It is also true that many Americans are eager, in senseless and fearful situations, for confirmation that the particular evil on display is the brand that conforms to their particular worldview. On Monday, there was comfort for some in the idea that the bombing was an act of tea-party loonies looking to exploit tax day. Among that same cohort was relief when the first pictures of the Tsarnaevs were released: The suspects were white, not Arab—maybe they were just another set of crazed teens with access to firearms. All week, nearly everyone was in a frenzy to profile, even those who should have known better.
There's just one problem with this analysis: the consequences of misidentification are disproportionately stacked on one "side." After the Oklahoma City bombing, the arrest and eventual execution of Timothy McVeigh had relatively little impact on American foreign and domestic policy. Sure, security was beefed up around federal buildings and other areas of interest, and President Bill Clinton attempted to leverage the attack into increased government powers, but life mostly went on.
Even after Aurora and Tucson, no one was rushing to strip conservatives of their legal rights, to surveil them more intensely, or anything else of the sort. Even if the killers had been conservatives, the most that liberals could've achieved is to point out (quite fairly) that conservatives can be just as extremist and violent as liberals (or liberals' perceived "allies:" more on that in a moment).
Take, for example, the Norwegian massacre in 2011. Much of the American media rushed to broaden the scope of the gruesome attack, speculating immediately that the perpetrator was Muslim and, in so doing, implicating an entire religion. When it turned out he was a Christian conservative extremist instead, the cacophony of media bloodlust and anti-Muslim vitriol dwindled to mere whispers, the target of public anger was narrowed to a single man, and familiar defenses were trotted out: he was a lone madman, he didn't represent any group other than himself, etc. These are, of course, sentiments not afforded Muslims and Arabs very often by these same publications.
There are, in other words, very light societal consequences for terrorism committed by ideological neighbors of the American conservative spectrum. But how quickly the tables turn when the suspect is a Muslim. (This is, in itself, an irony: nothing about fundamentalist Islam is remotely linkable to conventional liberalism, whereas fundamentalist Christianity is a crucial element within American conservatism. Islamic fundamentalism is, in fact, a much closer cousin of its Christian counterpart than it is of American progressivism.)
When the suspect is a Muslim, the consequences tend to be far greater and the overreactions more severe. September 11th, via a combination of mass hysteria, presidential incompetence, and public geopolitical ignorance, became a clear example of the catastrophe that can be unleashed on people-groups even in countries completely unrelated to the attacks.
A similarly frenzied dynamic is already enveloping the Boston Marathon bombing suspects, in some quarters. None other than U.S. Senator Lindsey Graham began publicly advocating the denial of basic rights to Dzhokhar Tsarnaev yesterday (a plea that was eventually successful, using a controversial "public safety" measure):
If captured, I hope Administration will at least consider holding the Boston suspect as enemy combatant for intelligence gathering purposes.

— Lindsey Graham (@GrahamBlog) April 19, 2013
The last thing we may want to do is read Boston suspect Miranda Rights telling him to "remain silent."

— Lindsey Graham (@GrahamBlog) April 19, 2013
The least of my worries is a criminal trial which will likely be held years from now. #Boston

— Lindsey Graham (@GrahamBlog) April 20, 2013
The Law of War allows us to hold individual in this scenario as potential enemy combatant w/o Miranda warnings or appointment of counsel.

— Lindsey Graham (@GrahamBlog) April 20, 2013
The goal is to gather intelligence and protect our nation which is under threat from radical Islam. #Boston

— Lindsey Graham (@GrahamBlog) April 20, 2013
The questioning of an enemy combatant for national security purposes has no limit on time or scope.

— Lindsey Graham (@GrahamBlog) April 20, 2013
Indeed, Graham, joined by Senators John McCain and Kelly Ayotte, as well as Representative Peter King, released a statement imperiously deeming Tsarnaev a "good candidate for enemy combatant status" and concluding:
We hope the Obama Administration will consider the enemy combatant option because it is allowed by national security statutes and U.S. Supreme Court decisions.

We continue to face threats from radical Islamists in small cells and large groups throughout the world. They have, as their primary focus, killing as many Americans as possible, preferably within the United States. We must never lose sight of this fact and act appropriately within our laws and values.
Even seemingly unrelated public policy issues are coming under fire as a "result" of the Boston Marathon bombing. See this piece from today, for example:
Opponents of immigration reform — the most promising priority of Obama's second term remaining after the defeat of gun control — are already using the attack to try to slow progress on a bipartisan Senate bill.

More broadly, the attack is raising questions about how the administration should deal with 19-year-old Dzhokhar Tsarnaev, who was captured Friday after an exhaustive manhunt in Boston, and concerns over whether the FBI was too complacent in letting his older brother Tamerlan Tsarnaev out of its sight after interviewing him in 2011.
So yes, it is true that, once the initial shock of the tragedy itself has been absorbed, both liberals and conservatives begin wincing at the possible fallout depending on who committed the crime. But as we have learned well over the years, public policy changes most when the suspect is part of a group used as a favorite conservative punching bag (in this case, Muslims). When the suspect is in any way connected to conservatism, the consequences are virtually nonexistent.
Related articles