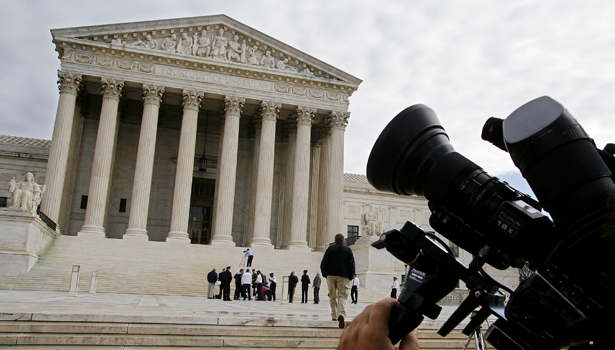 I'm of two minds about Al Tompkins' Poynter piece (excerpted below) advocating cameras in the Supreme Court, which Andrew Sullivan highlighted on The Dish yesterday:
This is at the heart of what courts do every day in America; they hear the people's business. It's not entertainment, like Judge Judy. It is a living civics lesson, and exactly what the public should be able to see.

Live coverage would give the people unfettered access to the words the justices say, and would make it harder for journalists to add their own spin. Live coverage would also help us visualize what's going on much more than words can.
My thoughts can be divided into roughly two camps: (1) SCOTUS' Problem with Embracing Technology (or, Why I Think We Will See Live Video of Arguments In the Future), and (2) SCOTUS' Problem with Protecting Court Integrity (Why Cameras are Both Good and Bad). Continue reading The Supreme Court decision will (not) be televised →