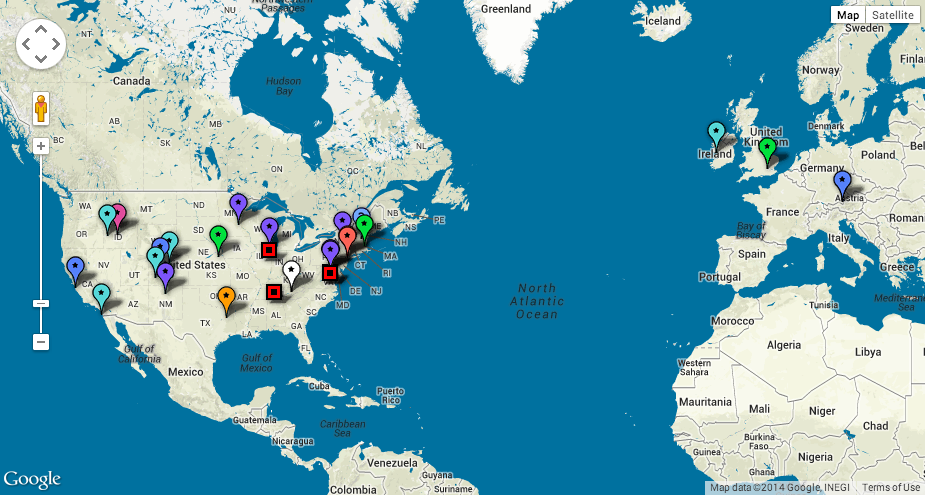 Victoria Kwan and I have been working on a few projects for the past few months. One of our more recent efforts is SCOTUS Map. (SCOTUS stands for "Supreme Court of the United States.")
This map, based entirely on Victoria's research (and my rudimentary knowledge of HTML, CSS, and JavaScript), displays where the current and retired Supreme Court justices are speaking throughout the summer and into the fall.
The map includes details on each event itself, the venue, registration information, and (eventually) post-event recaps. The right-hand sidebar lists all events, both past and future, in chronological order. SCOTUS Map will be continually updated as new events are announced, and we plan on creating new iterations of it for each successive Court term (and recess).
The map is permanently available at http://scotus.victoriakwan.com/pages/scotusmap. (Visiting http://scotus.jaypinho.com/pages/scotusmap will take you to the exact same page as well.) Please note that it is best viewed on a desktop computer, as tablets and especially mobile phones tend to squeeze the dimensions a bit.
We invite you to take a look. If there are any events involving Supreme Court justices that we haven't yet added, please let us know by tweeting at @SCOTUSMap or by sending us an email.
Finally, keep checking back here, as we have other projects in the works that we think you'll enjoy (especially if you happen to be a legal nerd).
Thank you!
Jay