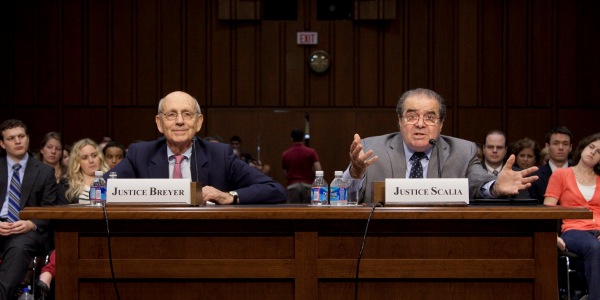 Last term, the Supreme Court's Fourth Amendment cases made for some curious cross-aisle alliances, pitting a privacy-friendly Justice Scalia and his liberal colleagues Ginsburg, Sotomayor and Kagan against a government-supporting Justice Breyer and the conservative bloc of Chief Justice Roberts and Justices Alito and Thomas (and sometimes Kennedy). Wednesday's oral argument in Fernandez v. California, however, saw Breyer and Scalia falling back along more conventionally ideological lines, with the former attempting to balance a rather unsympathetic defendant's rights against a domestic violence victim's needs, and the latter coming out in favor of a more expansive reading of law enforcement's investigatory powers.
Fernandez v. California stems from a 2009 encounter between Los Angeles police and a man suspected of committing robbery and gang-related assault, who was spotted near the crime scene and subsequently seen running into an apartment. After Fernandez's live-in girlfriend, Roxanne Rojas, opened the door for officers, fresh bruises and blood visible on her body, Fernandez told them that they could not legally come inside. He was removed from the premises anyway based on suspicion of domestic violence, arrested and taken to the police station. Two officers then returned to the apartment without a warrant and received consent from Rojas to search the premises, where they found evidence that would later be introduced at Fernandez's robbery and assault trial, resulting in his conviction. The question before the Supreme Court now is whether the police violated Fernandez's Fourth Amendment rights by warrantlessly searching his home with only the permission of the co-tenant girlfriend, even though Fernandez had earlier told the police in no uncertain terms that they could not enter. (If so, the state would not have been able to use the incriminating evidence from the apartment at his trial.)
In 2006's Georgia v. Randolph, the Supreme Court established that a co-occupant's objection to the police search of a home overrides another co-occupant's consent if both co-occupants are present. California argues that its search did not violate Randolph because Fernandez was absent at the time the police officers returned and Rojas, as the only present co-tenant then, had the right to open her home to whomever she wished to grant entry. The removal of Fernandez from the apartment–even if it was forcible–effectively nullified his refusal to consent to a search.
Fernandez, on the other hand, interprets Randolph to mean that once a physically present co-tenant has objected to the search, "an objection… remains in effect until officers learn that the objector no longer wishes to keep the police out of his home"–or until the police get a warrant. In other words, for the seven-year-old precedent to have any force, the police must not be allowed to gain consent for a warrantless search simply by carting an objecting tenant away from the premises.
This reading of Randolph appeared to be in trouble from the moment that Justice Breyer– whose Fourth Amendment jurisprudence typically reflects an optimistic view of the government using its investigatory powers in good faith–opened questioning with a hypothetical about a domestic abuse victim who is unable to ask the police to come investigate a shared home for evidence of the crime even after the assailant has been arrested, because there is no clear probable cause for a warrant and no consent from the violent co-tenant. Breyer is clearly troubled by Fernandez's argument, which he believes would deny Rojas her rightful authority as co-occupant to admit a visitor into their home during the 500-plus days he spent in custody.
On the other hand, Breyer, who joined the majority (and authored a concurrence) in Randolph, also doesn't want to undermine his previous position by giving free rein to law enforcement to change presences into absences. So he tries to reconcile his vote in Randolph with his unease in Fernandez with a compromise: the known objection of a tenant who is then removed from the house by law enforcement could remain valid for a limited "reasonable time" afterward (the exact definition of "reasonable time" to be decided by the lower courts), during which the police cannot search the house without a warrant.
Unfortunately for Breyer, none of his colleagues seem terribly receptive to this idea. Of the nine justices, Alito articulates the case against Fernandez most vociferously, suggesting at several points that Georgia v. Randolph was wrongly decided and ought to be overturned entirely. "I don't understand why the fact that one is a joint tenant is not the end of the analysis. Why shouldn't it be?" Justice Alito asked Fernandez's lawyer, indicating his belief that present consent should always override a present objection, much less an absent one. For Alito, Randolph has got it reversed–since he can't imagine having the authority to ever tell his co-tenant what visitors she could or couldn't permit into the home, Rojas' consent alone should have disposed of the entire case.
Justice Scalia, who was in last Term's cases a champion of privacy interests and mistrustful of government in search and seizure cases, dissented in Georgia v. Randolph, in part over concerns that abusers would use the rule privileging present objections to prevent police from investigating domestic violence, over the wishes of their battered partners. Today, he returned to that stance, telling Fernandez he was asking for an overbroad extension of a narrow ruling. Likewise, Chief Justice Roberts (who dissented in Randolph) and Justice Kennedy (who was in the majority) treated Fernandez's Fourth Amendment rights as virtually nonexistent in this situation, repeatedly stating that assault victims should not be deprived of the law enforcement assistance they might want to ask for in the abuser's absence. The fact that Fernandez is basically the world's worst roommate has made this an easier case for them to decide.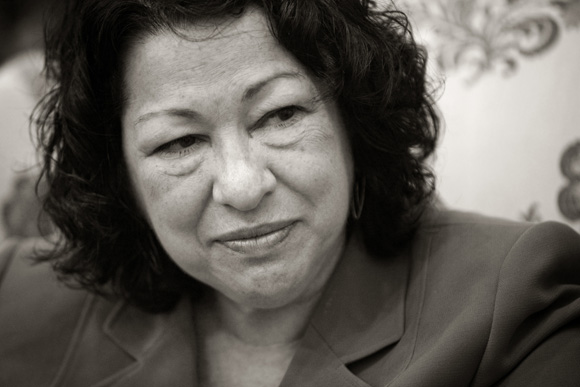 With the conservative justices focusing mainly on the social customs of roommates and the rights of Fernandez's co-tenant, it fell on Justice Sotomayor, the most vocal defender of Fernandez's position yesterday, to point out that California's proposed reading might grant law enforcement too much control in situations where they already have a great amount of power. Sotomayor questioned the wisdom of giving the police carte blanche to manipulate Randolph's absence/presence test –"[a]ll they have to do is arrest and remove people"– and circumvent proper search and seizure procedures. When California's lawyer told Justice Breyer that his "reasonable time" compromise would not be a sufficiently "clear answer" for law enforcement, Sotomayor interjected: "How about a clear answer? Get a warrant." She reiterated this point again later: "I don't know why that's so difficult for police officers to understand. Your first obligation under the Fourth Amendment is to get a warrant."
While that may be true in principle, there's an argument to be made that the Roberts Court has been slowly weakening the warrant requirement over the years, and the unsympathetic facts of Fernandez's case surely did not help his cause. From today's argument, it looks as though the Supreme Court will reduce Georgia v. Randolph to "nothingness," as Justice Ginsburg mused. Sotomayor may be able to convince Ginsburg and Kagan, who both showed some discomfort with the amount of control their conservative colleagues would hand to the police. She might also get Breyer's vote if she can somehow figure out a test that is consistent with both his Randolph concurrence and his desire to limit it in situations like these. Without the support of Scalia, however, the list of justices supporting Fernandez's claim is stuck at four, which, in the Supreme Court, is still a losing number.