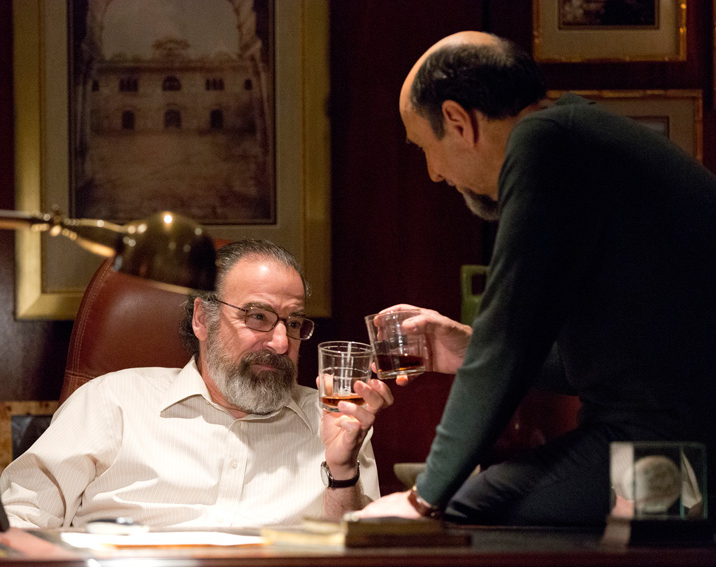 Sam: As much as I enjoyed this week's episode, why does so much of it seem like deja vu? A turned informant? Carrie fixating on "the truth" about Brody?
I feel like we know where the coming weeks are going to take us: Carrie's going to go on a crusade to clear Brody's name. I can hardly wait (yawn).
On the plus side, there were moments I very much enjoyed and appreciated: Quinn's resigned conclusion after his talk with the detectives and Saul calmly walking the Senator (and Dar Adal) through his master plan and then promptly locking him in the conference room.
I've neglected my winners and losers of the episode thing for a few weeks, so let's bring it back:
Winner: Saul, hands down. Nothing must've felt better than to lock the Senator in the conference room and then clicking the button that fogged up the glass. In your face, Senator!
Loser: Mira. I'm so tired of her pathetic character. She's getting close to Granny-level of annoyance for me (Dana has her own scale). Just go run away with the other dude already.
Your thoughts on this week's episode?
Jay: It's funny you mention the deja vu aspect: just last week I wrote, "I'm not really sure how much more gas is left in the Javadi storyline tank. If they try to turn him into a double agent, this will look too much like what they did to Brody and will feel like a rehash of past storylines." Unfortunately or not, that's exactly what they did.
Even worse, though, was how predictable and annoying all the characters were. Carrie couldn't help being impulsive, unable to control herself in the presence of a man whose manipulative side she herself had earlier warned Fara about. And Fara suddenly develops conflicted feelings out of nowhere. What happened to character development? If the entire point of Fara was to showcase her dual loyalties (perhaps to climax in a betrayal of the CIA later on?), then why bother with the character at all? That's been overdone.
Even Quinn's scenes bothered me this time. So a CIA assassin suddenly goes soft when confronted by a local cop's disgust? Or are we supposed to believe that kid he killed back in the season's opening episode is still haunting him? Either way, I've stopped caring. I think that's the worst thing about this season: I'm just not all that invested in the characters. Saul and Dar Adal could have their own show, for all I'm concerned, because just about everyone else is becoming increasingly tedious and predictable.
Am I being too harsh?
Sam: Not at all! I also wondered what the heck was up with Quinn. I understand the angle they're going with, but it just feels too…forced. Honestly, I wonder why the guy hasn't turned to some other outlet for his seemingly overwhelming internal struggles. I don't think we've ever really seen the guy ever have a drink, huh?
And the whole scene with Carrie and Javadi's baiting in the car…man, how predictable was that? Even if I hadn't watched previous seasons of Homeland, it was clear to anyone watching that she wouldn't be able to help herself from having to find out what he knew.
I thought we'd made a turn last week, but I wonder if that turn might not be a turn for the worse. If we suspect that Carrie is going to expend a bunch of energy over the next few episodes trying to clear Brody's name while simultaneously doing her job to help Saul on this Javadi mission, don't we already know how that's going to end? Any new characters aside, the plot seems to be rehashed storylines we've seen before.
Can Homeland come back and recapture the spark that captured our attention in the first place without recycling the same, old tired tendencies? If so, how do you think they'd do it?
Jay: Honestly, with each new episode that passes, I become less and less convinced that this show's writers have what it takes to turn the series around. That said, if anything can serve as the catalyst for that type of change, I can definitely imagine it having something to do with Brody. Whether or not he eventually gets killed off by the end of this season, his (inevitable, right?) return coming up should shift the storyline quite a bit.
But regardless of upcoming plot twists, what's more disappointing to me is the utter abandonment of any larger philosophical aspect to the show. Season 1 felt, at least in part, like a decently conceived critique of the "war on terror" and its disparate impact on the lives of Americans and others. Ever since then, it's become a more conventional action series without retaining any of the initial, broader message. I have my doubts it'll ever return.
Related articles