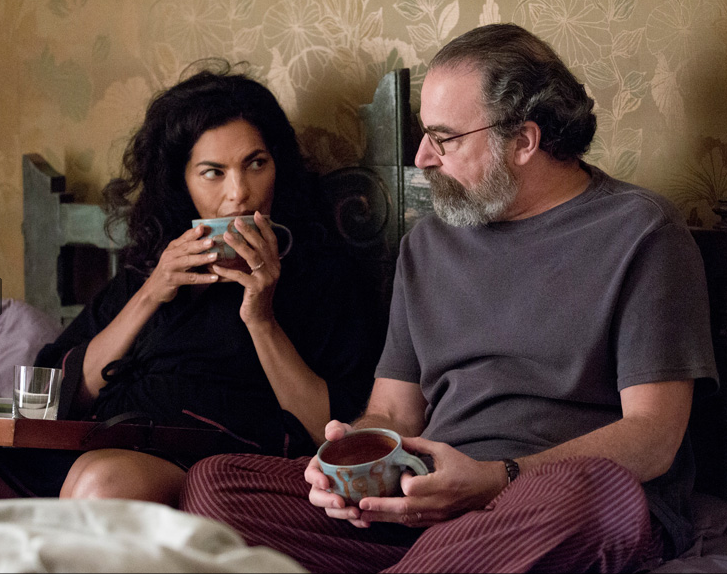 Jay: Initial thoughts: not as great as all the reviewers promised. There was a flurry of Twitter activity suggesting that this episode would be a return to all things great about Homeland. But while some of the excitement returned, I'm not at all convinced we've reached any kind of turnaround.
First of all, you just knew Carrie was going to defy orders at the motel. Yes, I get that this is completely consistent with her character, but at some point it just gets tiring. I actually rolled my eyes when she got out of the van and started following Franklin. I understand that she's impulsive and headstrong, but at what point does it become completely unbelievable that she could keep her job after so many betrayals? Similarly predictable was the fact that Carrie was clearly not going to die, no matter how ominous Dar Adal and Quinn tried to sound while warning her from continuing.
Mira's lover being some sort of spy was decidedly less predictable, but I'm not at all persuaded that that plot point makes any sense. And speaking of nonsensical moments, Carrie being so open with her doctor about her job (referencing the "father" in relation to her work) was an absurdly risky moment in a series in which characters are supposed to be devoted to secrecy and information security.
Slightly more intriguing was Saul's visit to Venezuela to visit Brody. It's confusing on a few levels, actually: why was Saul so cagey with Carrie when she asked about his conversation with Javadi? And why the hell is he visiting Brody if he knows he didn't do it? What could Brody possibly do for Saul now that he's been shown to have been uninvolved with the bombing?
I guess I don't see this as much of a step forward. Do you?
Sam: If this episode was anything of a step forward, it was only in the area of suspense and keeping me from looking at my watch. But, for all the reasons outlined, I also am not convinced this episode does anything to turn the show around.
How Carrie still has a job at the CIA is a question we've asked for quite some time now, and this latest episode and temper tantrum only adds to the absurdity that they still think she's a valuable asset to the team. She might have her breakthroughs once in a while, but I have a very hard time seeing how anyone can look past how she chronically defies orders.
This might be terrible, but do you feel at all bad that Quinn shot her? I personally don't. Her narrow focus on what "Saul promised" her betrays her childish inability to see the bigger picture of their mission. Does she have a good point in wondering why Franklin killed the bomber instead of getting him out of the country as Bennett had said? Sure, but it doesn't excuse her behavior.
Why Mira is still part of the story becomes only slightly less murky, but clumsily so. Grasping at straws, in my opinion. As for Saul traveling to Venezuela, it still makes no sense, but it is a bit scary that Saul has connections in the far-flung corners of the world. Why he's visiting him, I don't know.
The story with Fara is also a bit strange. Does someone who work for the CIA really just decide to take two days off without telling anyone like she did? And does the guy who walks into her living room really just start talking without affirming first whether her dad actually knows she works for the CIA? Or was that just supposed to be an ignorant assumption on his part that her father doesn't speak or understand English?
Overall, was I entertained by the episode? Yes. But does this episode help steer Homeland back toward being a great show? No. Frankly, when I consider the great shows we've seen, I'm not sure Homeland even stacks up close to any of them. In fact, it'll more likely be remembered in the same breath as 24, Alias, and Nikita.
Thoughts?
Jay: Yes, how did I not even touch on Fara's storyline? That also made very little sense. As you and others have brought up, the CIA's lack of knowledge about both her dad and the fact that she has vulnerable family members in Iran is completely inexplicable. Unless, of course, the entire point is just to underline how right the senator is for thinking that Saul's leadership of the CIA has ground the organization into utter humiliation. I'm starting to take his side on this.
Mira's lover is still confusing to me. Is he actually a spy, or is he just a spurned ex who's looking for some revenge — and who will later be talked off a metaphorical cliff by Mira later on? I could see something like this actually happening: Mira having to discreetly resume her infidelity in order to placate her lover into not sharing the data he stole, thereby saving Saul's work without him ever knowing how. I could see Homeland trying to turn this into some ridiculous plotline. I also have a notoriously bad record predicting the show, so I wouldn't bet on this happening.
I really like your last point, in which you place Homeland within the contemporary TV canon. That's a tough question, and one I'm not sure I'm qualified to answer (especially as I haven't been watching so many of the great shows that have been on TV lately, such as Breaking Bad). But given its showrunners' past work on 24, it's a bit disappointing — but perhaps perfectly legitimate — to recognize that they couldn't quite transcend their prior work.
Dare I broach the subject of what (if anything) would cause you to stop watching?
Sam: I should've clarified my thoughts on Mira's lover as well. The whole switcharoo with the computer mice confused me. I couldn't tell if he was spy either, but the way they sequenced his scene seemed like they wanted us to think that. But, c'mon, it just seemed so out of place.
Unless the show devolved into some sort of drama on the level of The Americans, I still plan on watching. As much as I've panned the show for being ridiculous, it's still entertaining television (when Dana's not being mopey and Carrie's not going on one of her self-righteous rogue missions).
How about you? I remember when we first started talking about Homeland during Season One, you mentioned that you sometimes watched shows to critique them, even if they're terrible, no?
Jay: That's true, although lately that experience has been mostly confined to The Newsroom. The Americans flirted with that level of ridiculousness at times, too, but I agree with you that Homeland is still a long way off from sinking to those levels.
Post Revisions:
This post has not been revised since publication.