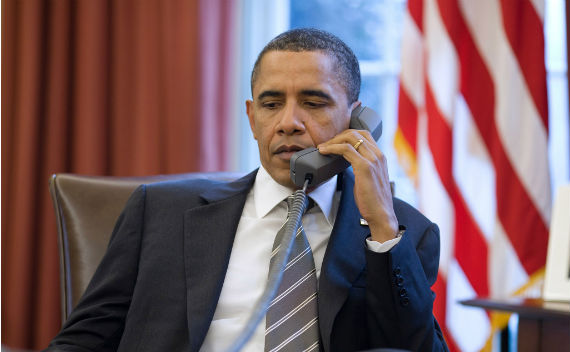 How do you know he's not listening in on your conversations? Answer: you don't.
 [Photo by Pete Souza, found via the Council on Foreign Relations]
For those of us who believe that the government needs to be more transparent in matters of national security, yesterday was not a very good day. In its first 5-4 opinion of this term, the Supreme Court split along ideological lines and ruled in favor of protecting a wide-ranging international surveillance program from constitutional challenges. Specifically, the Clapper v. Amnesty International opinion makes it much more difficult for lawyers, journalists, and human rights practitioners who suspect the United States of wiretapping their communications with non-Americans abroad to bring suit for such governmental behavior unless they have concrete proof that their correspondence will be intercepted.
At issue in Clapper is the Foreign Intelligence Surveillance Act (FISA), which allows the United States to target the communications of non-citizens on foreign soil. First authorized in 1978, FISA originally limited the Government to instances where it could show probable cause (to a special closed court known as a Foreign Intelligence Surveillance Court) that its individual targets were "foreign powers or the agents of foreign powers."  In 2008, however, Congress amended FISA to include Section 1881a, a provision which removed the probable cause requirement and greatly expanded both the pool of people and the kinds of communications that could be monitored.
While FISA is aimed at foreign nationals who fall outside the protection of the Fourth Amendment, one effect of the law was the warrantless interception of thousands of international communications between FISA targets and American citizens. Shortly after the passage of 1881a, a group of American legal, labor, media and human rights organizations led by Amnesty International asked the Supreme Court to overturn that provision. Claiming that they frequently communicate with non-American clients, coworkers, witnesses and sources abroad, the challengers argued that this law violated their First and Fourth Amendment rights.
Before they could even get to the constitutionality of 1881a, however, the challengers ran into a practical problem: because of the secrecy involved in such surveillance programs, they couldn't find any hard evidence that the United States was actually looking at their correspondence. Since Article III of the Constitution requires that you show some "injury" before you can bring a suit, Amnesty International argued that the injury lay in the "objectively reasonable likelihood" their conversations were or might be intercepted. The challengers further claimed that they had suffered numerous economic and professional harms in trying to avoid these interceptions, such as having to fly abroad to speak with clients in-person rather than over phone or email, and the reluctance of sources to disclose information in light of the potential eavesdropping. In response, the United States claimed that no one in this group had standing to bring this lawsuit, because (1) FISA targets only non-Americans, and (2) they simply could not prove that they were being intercepted. After the Second Circuit agreed with Amnesty International, the United States brought an appeal.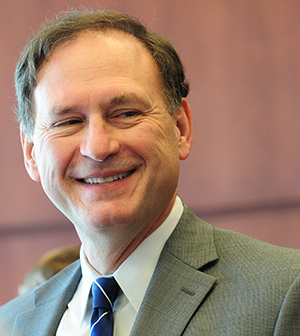 Justice Samuel Alito, a huge fan of certainty.
[Photo via Columbia Law School]
Justice Alito's opinion, which was joined by Chief Justice Roberts and Justices Scalia, Thomas and Kennedy, reverses the Second Circuit ruling by accepting the Government's stance that the challengers' claimed injuries were too speculative to allow the suit to continue to trial. Alito found the Second Circuit's "objectively reasonable likelihood" standard inconsistent with his reading of Supreme Court precedents, which he believes require a (much harder to show) "certainly impending" injury in order to establish standing. Ignoring the fact that it would be nearly impossible for any American to prove that the Government will monitor his correspondence under 1881a, Alito repeatedly emphasized that the challengers' fears of future surveillance were nothing more than a "highly attenuated chain of possibilities." Likewise, Alito brushed aside the fact that some of the challengers' foreign contacts included the friends and family of Guantanamo detainees (including rather high-profile clients like Khalid Sheikh Mohammed and Mohammedou Ould Salahi) whose communications had already been monitored by the United States.
The majority opinion was also quite unsympathetic to the increased economic and professional costs of operating under 1881a, despite the fact that lawyers and journalists have an ethical duty to protect confidential communications with clients and sources:
"[The challengers] cannot manufacture standing merely by inflicting harm on themselves based on their fears of hypothetical future harm that is not certainly impending… Because [they]do not face a threat of certainly impending interception under 1881a, the costs that they have incurred to avoid surveillance are simply the product of their fear of surveillance."
Naturally, the liberal wing of the Court, which had vociferously questioned the United States at oral argument about the fairness of a law for which virtually no one has standing to challenge, took issue with all parts of the majority opinion. The Justice Breyer-penned dissent also looked to precedent and rejected the majority's "certainly impending" injury standard in favor of a "reasonable probability" or "high probability" injury standard:
"…[C]ertainty is not, and has never been, the touchstone of standing. The future is inherently uncertain. Yet federal courts frequently entertain actions for injunctions and for declaratory relief aimed at preventing future activities that are reasonably likely or highly likely, but not absolutely certain, to take place. And that degree of certainty is all that is needed to support standing here."
Breyer went on to list no fewer than 18 cases in which federal courts found standing even where the likelihood of injury was "far less certain than here." In addition, he argued that under the Supreme Court's 2010 decision in Monsanto Co. v. Geertson Seed Farms, "reasonable efforts to mitigate the threatened effects of the future injury"–i.e., the economic costs that the 1881a challengers incurred in trying to keep their communications confidential–could constitute an injury sufficient enough for standing. Looking at the Government's motive, capabilities and previous actions under 1881a and some other "commonsense inferences," the dissent concluded that the challengers had in fact met the "reasonable probability" of injury standard and should have been allowed to contest 1881a's constitutionality at trial.
Unfortunately, the dissenting justices were unable to convince a fifth colleague over to their side, meaning that the federal government is now incentivized to take one more step away from transparency. In his opinion, Justice Alito countered this concern by choosing to place his faith in the special Foreign Intelligence Surveillance Courts, which he believes will keep the Government accountable to the Constitution. As Justice Breyer's dissent pointed out, however, these closed, secret courts (which do not make their hearings or records available to the public) very rarely reject any of the Government's surveillance plans, and should not be the only safeguard for Americans' civil liberties.  Nonetheless, the message that the Supreme Court sent yesterday is clear: the more secretive the United States keeps its national security programs, the safer they are from constitutional challenges, and the harder it is for ordinary Americans to vindicate what may be flagrant violations of their rights. We should all be very scared.