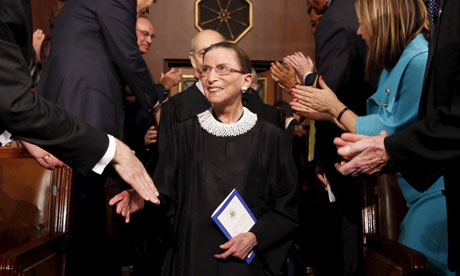 She's still got it: Justice Ruth Bader Ginsburg receives a warm welcome at the State of the Union.
The New Yorker has just published Jeffrey Toobin's illuminating profile on Justice Ruth Bader Ginsburg ahead of her 80th birthday on March 15th. (Subscribers to the magazine can access the full text of the ironically-titled piece, "Heavyweight," at this link.) Chronicling Justice Ginsburg's early struggles in the male-dominated legal world of the 1950s (Ginsburg had trouble finding someone who would hire her despite having graduated first in her class at Columbia Law), her triumphs as a leading women's rights advocate with the ACLU, her marriage to the late tax attorney Martin Ginsburg, and her tenure on the Supreme Court, the profile is an understated and touching pre-tribute to the Justice who conventional wisdom tells us is most likely to retire next.
From same-sex marriage ceremonies to retired Justice Sandra Day O'Connor, partial-birth abortion bans to Lilly Ledbetter, "Heavyweight" is full of interesting tidbits and little gems from Justice Ginsburg herself: 
On her brief-writing strategy while litigating cases before the Supreme Court:
"I was doing all these sex-discrimination cases, and my secretary said, 'I look at these pages and all I see is sex, sex, sex. The judges are men, and when they read that they're not going to be thinking about what you want them to think about,' " Ginsburg recalled. Henceforth, she changed her claim to "gender discrimination."
On work-life balance:
"It bothers me when people say to make it to the top of the tree you have to give up a family. They say, 'Look at Kagan, look at Sotomayor' … What happened to O'Connor, who raised three sons, and I have James and Jane [her son and daughter with Martin Ginsburg]?"
On Chief Justice John Roberts:
"For the public, I think the current Chief is very good at meeting and greeting people, always saying the right thing for the remarks he makes for five or ten minutes at various gatherings."
On how long she will remain on the bench:
"As long as I can do the job full steam… You can never tell when you're my age. But, as long as I have the candlepower, I will do it. And I figure next year for certain. After that, who knows?"
Money quotes aside, Toobin's piece is particularly fascinating when he discusses Justice Ginsburg's views on the relationship between Congress and the Court. Though she is classified as one of the Supreme Court's liberals in the vein of Earl Warren and Thurgood Marshall, Ginsburg does not share these predecessors' conviction that the Court should be the driving force for widespread social change. Instead, Toobin writes, she believes that the Court's role is to begin dialogue with the elected branches of government, to ask them to reconsider "ancient positions" that may no longer work in our day and age, and then to kick the proverbial ball back to them. In this respect, Justice Ginsburg is very much like President Obama, who also prefers to see social change enacted through the legislative rather than judicial arena (and whose similar views on the judiciary have also been discussed at length by Toobin). It is little wonder, then, that the two seem to get along so famously.
Anyway, the profile is a must-read for anyone who is interested in the Supreme Court, the women's rights movement, or even just a good life story.