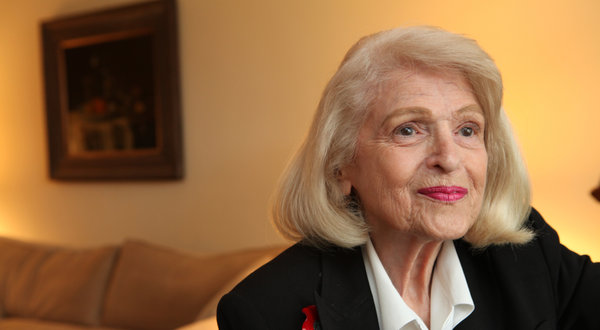 Edie Windsor. Picture courtesy of the New York Times. 
All eyes are on the Supreme Court this morning as it prepares to finally hear two cases on same-sex marriage, the civil rights issue of our time. Starting shortly after 10 a.m. today, a 60-minute oral argument will be held for Hollingsworth v. Perry, which questions the constitutionality of California's Proposition 8 restricting the definition of marriage to one woman and one man. Tomorrow morning, the Justices will hold a 110-minute argument for United States v. Windsor, in which the Supreme Court could strike down the 17-year-old Defense Of Marriage Act (DOMA) that denies federal benefits to same-sex couples even if their marriages are recognized by the state. (The Court is expected to release the audio recording and transcript for each argument shortly after it ends.)
Given the historical significance of these two cases, it's not surprising that the Internet has lit up with a maelstrom of commentary on just about everyone and anyone who is even remotely connected to either suit. From current Chief Justice John Roberts to former Justice Harry Blackmun, the marquee duo of lawyers challenging Proposition 8 to the people who have been paid to wait in line since Thursday night for the chance to score seats at the oral arguments, everything SCOTUS-related has come under increasing scrutiny as March 26, 10 a.m. draws near. Lest you are feeling overwhelmed by this deluge of information or just looking to do a little bit of last-minute reading as we wait for the Court to wrap up the day's oral argument, I've compiled some of what I think are the most helpful and informative articles for understanding who's who and what's going on:
The Overview: Hundreds of articles have picked apart the individual issues and key players before the Court. For one centralized, concise summary of all the legal issues at stake in Hollingsworth and Windsor, the inimitable SCOTUSblog has two primers from Amy Howe. For a quick-hits list of things to watch for at the arguments, go to CNN's Matt Smith or Slate's Emily Bazelon, both of whom have highlighted the most important things to know.
The Plaintiffs of Proposition 8: Unsurprisingly, the media has made much hay of the human interest stories behind these cases. The two couples handpicked from California to challenge Prop 8–Kris Perry and Sandy Stier, Paul Katami and Jeff Zarrillo–are profiled in USA Today as "workaday couples living the American Dream, with one exception–they can't marry their partners." Perry and Stier also recently gave an interview to the Associated Press (found via the Huffington Post) in which they recall how they've lived the last four years in a "pins-and-needles way" while litigating their case up to the nation's highest court.
The Lawyers Challenging Proposition 8: One of the most dramatic storylines in a case chock-full of them has to be the partnership of superstar lawyers David Boies and Ted Olson, who were famously opponents in Bush v. Gore. The conservative Olson, a former Solicitor General for the U.S. under President George W. Bush, was initially met with some skepticism when he announced that he would be joining Boies in the fight against Prop 8; the Los Angeles Times profiles him here. David Boies, for his part, gave an interview to USA Today two weeks ago stating his belief that Hollingsworth v. Perry will be decided in their favor with more than five votes.
The Plaintiffs of DOMA: "I came to New York to let myself be gay." Edie Windsor, an 83-year-old widow and former IBM engineer who was engaged to Thea Spyer for 40 years and married for two before Spyer's death, is the subject of an illuminating New York Times piece about her reasons for challenging the federal government. New York Magazine recently compiled a slideshow of pictures from Windsor and Spyer's life together.
The Lawyer Challenging DOMA: Though Windsor–with her winsome personality, elegant looks and her compelling love story–now looks like what civil rights lawyers would call the perfect plaintiff for same-sex marriage, her case was rejected by a major gay rights organization before being picked up by Roberta Kaplan, an attorney with Paul, Weiss, Rifkind, Wharton & Garrison. Kaplan, who has said that it took her all of five seconds to decide that she wanted to litigate Windsor's case, explains her reasoning to Advocate.
Justice Anthony Kennedy: The current swing vote on an increasingly polarized Court, Justice Kennedy's jurisprudence isn't always easy to pin down, but he has been sympathetic to gay rights in the past. Famously, he cast the deciding vote (and wrote the opinions) in both Romer v. Evans, which threw out a Colorado law barring anti-gay discrimination laws, and Lawrence v. Texas, in which the Court overturned a Texas sodomy law that was used to prosecute a gay couple for consensual sexual activity. Back in December, when the cases were first granted, Jeffrey Rosen of The New Republic considered whether Kennedy would go for a broad constitutional ruling or a narrow one in light of his previous rulings. Garrett Epps of The Atlantic writes here that we can expect Kennedy to stick to his record of defending both states' rights and gay rights.
Justice Antonin Scalia: Just as Kennedy is known for leaning libertarian on gay rights issues, Scalia is quite well-known for his moral opposition to same-sex marriage. The big question going into today and tomorrow's arguments is what he will say this time about gay marriage, and how offensive it will be. Mother Jones and ABC News have both compiled some of Justice Scalia's thoughts on same-sex marriage over the years, including pieces of his dissents in Romer and Lawrence, and his now-infamous comments comparing disapproval of homosexuality to disapproval of murder, made during a speech at Princeton in 2012.
The Families of the Supreme Court: Robert Barnes of the Washington Post discusses the love lives and marriages of the Justices, noting that many of them have not chosen the "traditional" marriage or childbearing arrangements that Prop 8 and DOMA supporters trumpet. The Los Angeles Times also brings up the fact that Chief Justice John Roberts has a gay cousin, Jean Podrasky, who will be in attendance at the oral arguments this week in the 'families and friends of SCOTUS' section. Podrasky told the LA Times: "I believe he sees where the tide is going… I absolutely trust that he will go in a good direction."
The Shadow of Roe v. Wade: When the DOMA and Prop 8 suits were first filed, many wondered whether pushing same-sex marriage through the courts rather than the state-by-state legislative process was a mistake, pointing to the cautionary tale of Roe v. Wade, which polarized the debate on abortion. The New York Times writes on the shadow of Roe here.
The Forerunners: Linda Greenhouse of the NYT delves into the notes of the late Justice Harry Blackmun (the author of Roe v. Wade) to ascertain his thoughts on same-sex marriage, an issue that the Supreme Court wouldn't even touch while Blackmun was on the bench in the 1970's. Greenhouse also highlights the story of Jack Baker and James McConnell, a Minnesota couple who took their state to court in 1970 for their right to marry each other, and reflects on how much public opinion has changed since then.
The Public: Public support for same-sex marriage has snowballed in the last year, and it's impossible to think that the Justices haven't noticed. The Pew Research Center found in a March 2013 poll that support had swelled to a high of 48% (versus 43% of respondents who were opposed to same-sex marriage). NPR has created a timeline tracking same-sex marriage in the courts and in pop culture here.  Meanwhile, sensing this change in the air, members of Congress have been tripping over each other to announce their support for same-sex marriage before the Supreme Court speaks, as TIME reports. Mother Jones has compiled a timeline of politicians' about-faces on this issue.
The People Standing in Line: SCOTUSblog reported last week that people were lining up outside of the courthouse for oral argument seats as early as Thursday night, and the media promptly descended. One man tells the National Journal that he has conducted over 200 interviews while waiting in line. Meanwhile, Adam Liptak and SCOTUSblog trade barbs over the fact that at least some of those in line were paid to stand (or, sit) there by wealthier lawyers who want a seat at the historic hearings but not the five-day wait.
The Possible Outcomes:  Finally, the New York Times has a very helpful infographic here about the possible ways in which the Supreme Court could decide both cases, and what states each outcome would affect.