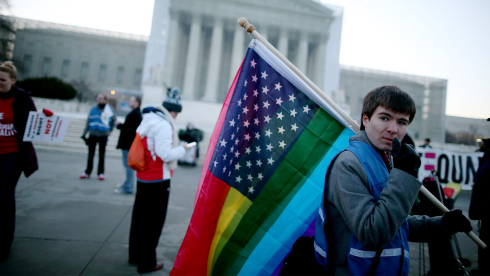 When all was said and done, there weren't any major revelations in Tuesday's oral argument for Hollingsworth v. Perry, but it did set the stage for an interesting two hours of arguments on the Defense of Marriage Act that the Supreme Court will hear today.
Chief Justice John Roberts looked for ways to dispose of the Proposition 8 challenge based on the procedural question of standing–as he has done in so many other cases during his tenure–and at least four of his fellow Justices seemed receptive to that option, dissatisfied with the alternatives that the attorneys before them were offering.
The Prop 8 challengers and the United States government framed this fight as the latest in a long line of struggles for equality, appealing to the liberal wing of the Court as we thought they might. They drew parallels to Brown v. Board of Education and Loving v. Virginia, the 1967 case that outlawed state bans on interracial marriages. Justice Ruth Bader Ginsburg–a civil rights pioneer in her own right–reminded Charles Cooper, the lawyer defending Proposition 8, that it was unsound to rely on the Constitutional reasoning of a thirty-year-old Supreme Court decision unfavorable to gay marriage (Baker v. Nelson), given that gender discrimination was barely even recognized back then. Justice Sonia Sotomayor questioned Cooper about whether the government had any rational basis to deny gays and lesbians benefits other than marriage, and Justice Elena Kagan repeatedly pressed Cooper to specify the harm that same-sex marriage causes.
And, as expected, Justices Samuel Alito and Antonin Scalia did not take kindly to the arguments of the Prop 8 challengers. Scalia managed not to emit any overly damaging sound bites this time–the worst thing he said concerned potential "deleterious effects" of same-sex parenting on children–but got into a testy exchange with anti-Prop 8 attorney Ted Olson. Seeking to make a point about America's long and treasured history of discriminating against gays, he interrogated Olson on when exactly gay marriage bans became unconstitutional, berating him when Olson attempted to answer with a rhetorical question about interracial marriage prohibitions, and responding triumphantly when Olson admitted that he could not provide a specific day: "Well, how am I supposed to decide the case, then–if you can't give me a date when the Constitution changes?"
Debates that the public has been having for years spilled over into the courtroom as the Justices extended each side's arguments to their logical conclusions. They grilled Cooper on why, if procreation is the main point of marriage, the state hasn't banned marriages between infertile, elderly or incarcerated couples. They asked Olson whether a state could prohibit polygamy or incestuous marriages if marriage is in fact a fundamental right under the Constitution. Neither of the answers that the attorneys provided–a convoluted riff about preventing the evils of infidelity from Cooper, and a muddy distinction drawn by Olson between status and conduct–seemed to satisfy a clear majority of the Justices.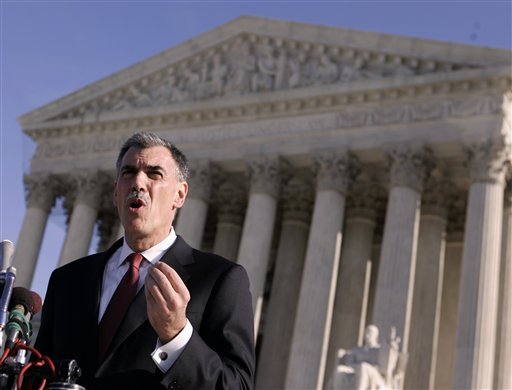 Though none of the questions came out of left field, there weren't any obvious winners or losers, as each of the lawyers' arguments had holes that made several Justices uncomfortable. Solicitor General Donald Verrilli, Jr., arguing the federal government's position in support of the Prop 8 challengers, probably fared the worst out of the three attorneys. He took a verbal beating from both liberal and conservative justices over the Obama administration's dubious stance that states offering civil unions must be made to offer same-sex marriage as well, while states that have never allowed the civil union option should not be required to legalize same-sex marriage. Wouldn't such an "all or nothing" approach incentivize states to grant their gay citizens no rights instead of some rights, Breyer asked? Verrilli didn't have a good answer. Then again, as last year's oral arguments for the Affordable Care Act showed, he doesn't have to be on his A game for the Justices to find in his favor. Even if the Justices are loath to accept the federal government's preferred "eight state" course of action, the Obama administration would still celebrate any California-specific result that leaves intact federal district judge Vaughn Walker's ruling against Prop 8 (or the Ninth Circuit affirmation of that decision).
In the end, it all comes down to Anthony Kennedy, as it has many times before and will again in the future. Justice Kennedy did quite not tip his hand at yesterday's argument, asking probing questions of both sides. He showed concern over what would happen to the 40,000 children in California with same-sex parents if their fathers and mothers were denied the right to marry, yet balked at the thought of finding a fundamental right to same-sex marriage, warning that the Court was wandering into "uncharted waters." Kennedy pushed Cooper to concede that he couldn't think of any specific ways in which same-sex marriage injures society, but also suggested that the case might have been improvidently granted in the first place and should be thrown out based on standing rules. Basically, he appeared to be searching for a rationale to justify a limited rather than broad ruling. Hence, it's unlikely that the Court will uphold Proposition 8 or make same-sex marriage constitutional across all 50 states–but beyond that, it is unclear what the exact decision is going to be.
Prior to Tuesday's oral argument, David Boies, Ted Olson's partner in Hollingsworth v. Perry, had confidently predicted that the Proposition 8 challengers would win the case by at least a 6-3 margin. Emerging from the courthouse into the sunshine yesterday afternoon, however, Olson didn't sound so sure. "Based on the questions the Justices asked, I have no idea" what the Supreme Court will rule, he said. Most court-watchers don't, either, but it will be very interesting to see how the Prop 8 arguments over standing, states' rights and respect for the legislative process play out when the Justices tackle similar questions in the United States v. Windsor DOMA challenge today.